The Oldies But Goodies Drags presented by Project Filter returns to Firebird over the June 2-3 weekend. A combination of nostalgia race `n show classes will be offered, along with the  Boise Muffler Gold Cup Series at this two-day event.
All of the core Gold Cup eliminators will be contested each day, including  Super Pro, Pro, Sled/Bike and Sportsman. Additionally, racing will be staged in Open Comp, Pro Comp, Old School Gasser, Oldies Bracket #1, Oldies Bracket #2 and Oldies Bracket #3. Click on the hyperlink buttons below to learn more about the racing.
Saturday will offer a day time trials and qualifying followed up by racing Sat. eve., in Super Pro Gambler, No Box Gambler and Geezer Gambler (55 years of age or older).
Both Saturday and Sunday will offer dedicated show `n shine parking in the paved upper pit area. A multitude of special show plaques will be awarded on both Sat. and Sun.
One of the extra cool things that you receive at the Oldies event is the official event t-shirt. Both Drag and Show entrants receive a shirt, which was designed by the award winning artist Ger Peters (from the Netherlands). Pictured below, the 2018 art will be custom printed on black t-shirts for the first time in Oldies history.
A thirty-eight year tradition at Firebird, the Oldies is annually supported by a number of host clubs. They include the: Melba Outlaws, Vintage Gems, Heap Herders, Barons and Idaho Chariots.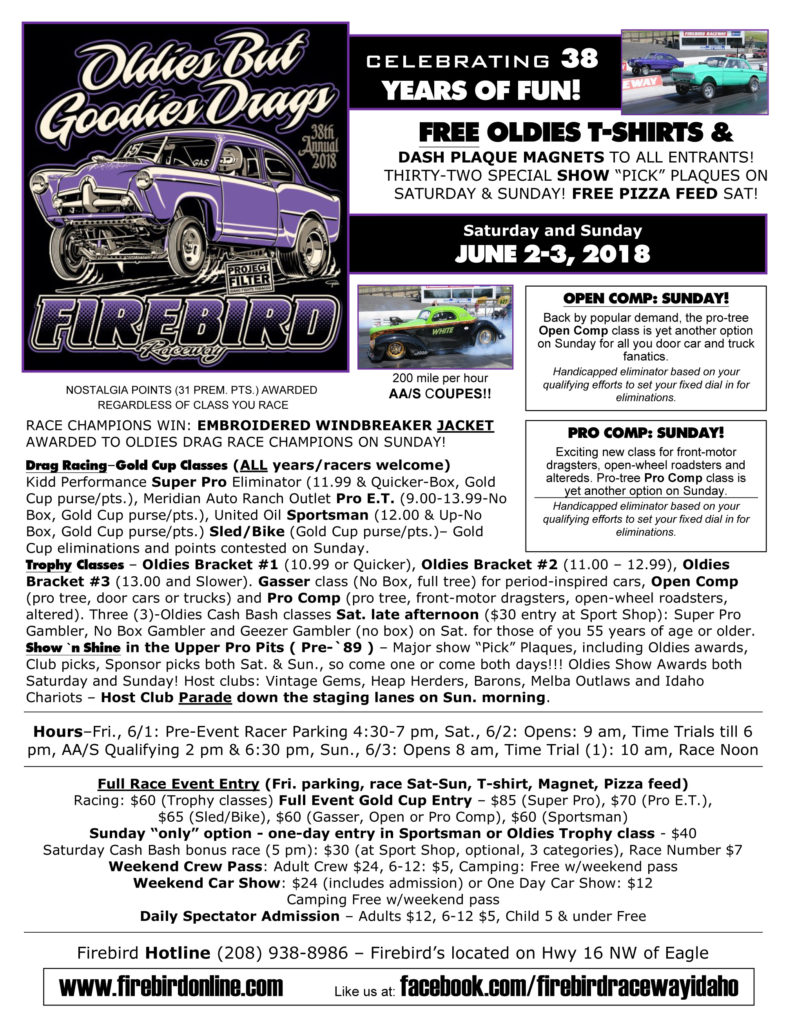 CLASSES
AA/Supercharged Blown Alcohol Gassers
Super Pro (11.99 or quicker)
Pro (7.50-13.99)
Sportsman (12.00 and slower)
Sled/Bike (14.99 or quicker)
Gasser (straight axle, old-school race cars)
Oldies Bracket #1 (10.99 & Quicker)
Oldies Bracket #2 (11.00 – 12.99)
Oldies Bracket #3 (13.00 & Slower)
Pro Comp (.4-tenths, pro-light, handicapped, front-motor dragsters, open-wheel roadsters and altereds)
Open Comp (.4-tenths, pro-light, handicapped, door cars and trucks)
Test `n Tune
WEEKEND RACE FEES
Super Pro: $85
Pro: $70
Sled/Bike: $65
Sportsman: $60
All Other Classes: $60
Annual permanent number/license card: $7
WEEKEND FEES
Adults: $24
Ages 6-12: $5
One-Day Adult: $12
One-Day 6-12: $5
Ages 5 & Under: Free
DAILY RACE SCHEDULE
Opens: 9:00 am
Racing: throughout the day
Concludes: 6:00 pm
OLDIES BUT GOODIES EVENT FLYER
OPEN COMP OVERVIEW
PRO COMP OVERVIEW
In the event of inclement weather, updates will be available on this site and on our Facebook page.