Firebird Raceway is a full-service facility featuring a wide variety of fantastic food and beverage in one of three permanent on-site food service facilities.
Our food and beverage operation offers high quality in a safe and sanitary environment. Specialties include tasty hamburgers and cheeseburgers, along with the famed "double-double" burgers with two patties and two slices of cheese. We will honestly put our French fries and onion rings up against any sporting venue in the industry.  They are delicious, an item you'll likely order more than one time on any giving weekend.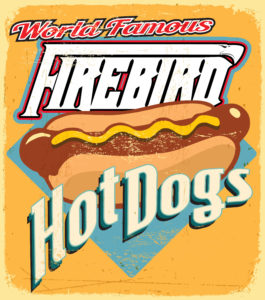 Don't miss your chance to try our World Famous Hot Dogs. In our opinion, they rock the house. Plus we offer quarter-pound hot dogs and polish dogs that are equally terrific. We also offer sandwiches with juicy barbecue pork and chicken breast, too.
The Nitro Nachos include your choice of chips, hot cheese, jalapeños, and chili, a real fan favorite.
We take great pride in offering food and beverage at an affordable price, something your entire family can enjoy.
Breakfast is served at many Firebird day-time events. You owe it to yourself to try our Biscuits and Gravy. Two sizes are offered, the single or the double – both of which will bring smiles with a cup of coffee, hot chocolate or cappuccino to start your racing day. Another alternative in the morning is the Johnny's breakfast sandwich, quickly becoming one of the popular breakfast staples at the raceway. Inspired by John New, it comes with an English muffin, egg, sausage and cheese – try it, we're positive you'll love it!
One of the hallmark treats at Firebird is Ice Cream. You scream, we scream, they all scream for Ice Cream has become a motto of the raceway. For just $2.50, we will offer you one half pound of your favorite ice cream flavor of either vanilla, chocolate or mint chocolate chip ice cream. What a deal!
The raceway also offers full pizzas by the slice or the whole pie. Plus you can enjoy pretzels, popcorn, licorice ropes, and an assortment of other top quality snacks.
We also feature an assortment of Coca-Cola fountain drinks, along with Monster and NOS energy drinks, Body Armor, ice tea and lemonade. Ice cold beer is also available with a variety of Coors beverages on tap, in addition to wine, margaritas, and wine coolers.
Our trained food service staff works extra hard to provide quick service in a friendly fashion, so be sure and stop by and enjoy the best that Firebird has to offer the next time you attend one of our events.