NHRA Rules and Licensing
Rule Book
Whether you might be new to the sport and an experienced racer, we always recommend taking the time to read, review and learn the NHRA Rule Book. You can purchase your own Rule Book during any regular event in the Firebird Sport Shop. It's chock full of detailed information. It covers when you are required to wear a helmet (13.99 or quicker, and the specific Snell rating to race). You can learn more about when a roll cage is required or a five-point safety harness. The book covers everything from AA/Funny Car to E.T. brackets and everything in between.
NHRA Summit E.T. License Procedure and Renewal
Earlier this year, NHRA introduced a restructured competition licensing program providing racers with a more streamlined process that also combined the competition license with the benefits of NHRA Membership.
NHRA's excess medical insurance*, a major benefit in the NHRA Membership was increased to $575,000 if you are injured at an NHRA member track as a racer, or even as a crewmember or spectator.
The  licensing/membership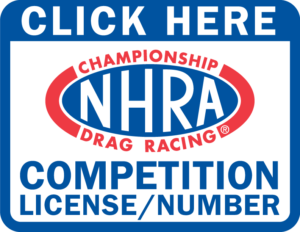 program offers three licensing groups including Professional, Pro/Sportsman and Sportsman groups with different levels of licenses based on vehicle classification and driver performance. With this program, a medical exam is not required for certain levels of licenses in Pro/Sportsman and Sportsman groups with fees lowered for the Sportsman levels.
As we approach the NHRA Summit Racing Series Division Finals portion of the 2018 season that runs from the end of August through October, now is the perfect time for all NHRA Summit E.T. bracket racers to review and renew their own license and NHRA Membership. Simply click on the new NHRA Competition License/Number icon on NHRAracer.com or on your NHRA division website to begin the process.
All racers participating in one of the upcoming NHRA Summit Racing Series Division Finals events are required to have a valid NHRA Competition License, ET category number and NHRA Membership.
* Excess over any other insurance or self-insurance, federal, state or other governmental plan. Coverage is, at all times, limited to the terms, conditions and exclusions of the policy. Coverage may be different outside of the United States.
Junior Drag Racing League
Specifically for kids 5 to 17 years of age, the Junior Drag Racing League requires specific paperwork to be completed prior to making any runs at NHRA member tracks. You can also learn more information (below) on the NHRA Junior Street program.
JUNIOR DRAGSTER INFORMATION
JUNIOR STREET APPLICATION