Racers can qualify for the Perfect Light Club during any Gold Cup, Club Challenge or High School/Alumni Street Legal event during the season.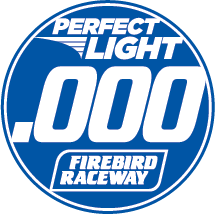 Either during time trials, qualifying or eliminations, if you're lucky (or just plain good enough) to drill a perfect .000 reaction time, you will earn a Perfect Light Club decal. We will track all those who qualify during the racing season and list them out.
Good luck to everyone trying to earn a spot in the Perfect Light Club. Best of all, you can add your name to the list as many times as you hit the triple "O" reaction time.
Updated: 10/09/2023
| Driver | Year & Make | Engine size | Date |
| --- | --- | --- | --- |
| Gary Stemple | 97 Suzuki | 1000 cc | 4/8/2023 |
| Tia Jo Franklin | 76 Ventura | 355 ci | 4/16/2023 |
| Nanette Cox | 73 Challenger | 440 ci | 4/22/2023 |
| Robert Johnson | 14 Charger | 345 ci | 4/22/2023 |
| John Bryant | 73 Chevy C-10 | 350 ci | 4/22/2023 |
| Kevin Heideman | 17 Camaro | 6.2 L | 4/23/2023 |
| Andrew Numley | 87 Dragster | 357 ci | 4/23/2023 |
| John Shaffer | 66 Chevelle | 600 ci | 4/22/2023 |
| Juliet Barnhart | 00 Dragster | 565 ci | 4/22/2023 |
| Jacob Phelps | 72 Vega | 406 ci | 4/28/2023 |
| Janet Barrett | 70 Maverick | 302 ci | 4/28/2023 |
| Kenneth Dill | 75 Vega | 6.0 L | 4/28/2023 |
| Lynn Johnston | 65 Barracuda | 498 ci | 4/28/2023 |
| Tom Reeb | 74 Nova | 400 ci | 5/6/2023 |
| Tim Brown | 49 Anglia | 540 ci | 5/6/2023 |
| Jesse Boepple | 01 Dragster | 434 ci | 5/7/2023 |
| Casey Nelson | 00 Dragster | 540 ci | 5/7/2023 |
| Bill Bicknell | 70 Nova | 400 ci | 5/7/2023 |
| Cody Waisner | 75 Nova | 327 ci | 5/12/2023 |
| Brian Wilkening | 10 HHR | 2.4 L | 5/13/2023 |
| Shane Hindle | 71 Nova | 409 ci | 5/13/2023 |
| Rodney Weaver | 82 Datsun | 5.7 ci | 5/20/2023 |
| Richard Lally | 78 C-10 | 407 ci | 5/20/2023 |
| Chris Hall | 67 Camaro | 540 ci | 5/20/2023 |
| Tommy Drake Jr. | 22 Dragster | 565 ci | 5/20/2023 |
| Jerry Perkins | 70 Camaro | 496 ci | 5/20/2023 |
| Triston Young | 78 Camaro | 5.0 L | 5/21/2023 |
| Justin DuBose | 20 Dragster | 565 ci | 5/21/2023 |
| Samuel Newcomer | 16 Camaro | 6.2 L | 5/26/2023 |
| Ashley Day | 69 Nova | 383 ci | 5/26/2023 |
| Andrew Northup | 05 Chrysler | 3.2 L | 5/26/2023 |
| Jeff Higgins | 95 S-10 | 400 ci | 5/26/2023 |
| Connor New | 02 Explorer | 4.0 L | 5/26/2023 |
| Cody Waisner | 75 Nova | 327 ci | 6/2/2023 |
| Mark Tyacke | 85 Camaro | 355 ci | 6/2/2023 |
| Summer Field | 70 Maverick | 351 ci | 6/2/2023 |
| David Deming | 74 Nova | 408 ci | 6/2/2023 |
| Nikki Cannon | 69 Camaro | 572 ci | 6/2/2023 |
| Michael Clement | 85 Camaro | 355 ci | 6/2/2023 |
| Michael Low | 67 Mustang | 540 ci | 6/2/2023 |
| Steve Scrivner | 57 Chevy | 283 ci | 6/2/2023 |
| Michael Boehner | 67 Camaro | 582 ci | 6/2/2023 |
| Jesse Boepple | 01 Dragster | 434 ci | 6/3/2023 |
| Megan Gaynor | 18 Dragster | 632 ci | 6/3/2023 |
| Steven Adair | 65 Nova | 434 ci | 6/4/2023 |
| Kota Nation | 76 C-10 | 468 ci | 6/16/2023 |
| Chris Townsend | 92 Subaru | 202 ci | 6/16/2023 |
| Aaron Marcum | 00 S-10 | 406 ci | 6/16/2023 |
| Keith Severy | 79 Monte Carlo | 400 ci | 6/16/2023 |
| Madison Eden | 00 Dragster | 454 ci | 6/16/2023 |
| Katy Phelps | 17 Camaro | 6.2 L | 6/17/2023 |
| David Deming | 74 Nova | 408 ci | 6/10/2023 |
| Brad Pattan | 68 Firebird | 383 ci | 6/17/2023 |
| Brandan Smith | 71 Nova | 383 ci | 6/17/2023 |
| Melissa Jarboe | 71 Vega | 388 ci | 6/17/2023 |
| Melissa Jarboe | 71 Vega | 388 ci | 6/17/2023 |
| Steve Lambert | 68 El Camino | 427 ci | 6/17/2023 |
| Dillon Bosworth | 03 Dragster | 582 ci | 6/17/2023 |
| Summer Field | 71 Maverick | 351 ci | 6/17/2023 |
| Todd Coltrin | 22 Dragster | 615 ci | 6/17/2023 |
| Madison Eden | 00 Dragster | 454 ci | 6/17/2023 |
| Luke Alleman | 22 Supra | 3.0 L | 6/24/2023 |
| Joe Yglecias | 13 Audio | 3.0 L | 6/24/2023 |
| Ron Freedle | 70 Nova | 350 ci | 7/22/2023 |
| John Tobias | 17 Dragster | 360 ci | 8/3/2023 |
| Bryce Crosby | 94 Probe | 454 ci | 8/3/2023 |
| Brad Pattan | 68 Firebird | 468 ci | 8/3/2023 |
| Jason Pettit | AA/FA | 575 ci | 8/4/2023 |
| Jesse May | 05 Suzuki | 1200 cc | 8/4/2023 |
| Cindy Moore | 97 Dragster | 532 ci | 8/4/2023 |
| J.R. Cox | 72 Nova | 421 ci | 8/5/2023 |
| David Wood | 16 Arctic Cat | 1056 cc | 8/6/2023 |
| Rod Mills | 10 Mustang | 4.6 L | 9/8/2023 |
| Evan Fitch | 64 El Camino | 383 ci | 9/8/2023 |
| Beau Hansen | 94 Mustang GT | 302 ci | 9/9/2023 |
| Casey Youngstrom | 68 Firebird | 455 ci | 9/23/2023 |
| Dylan Miller | 16 Kawasaki | 1441 cc | 9/23/2023 |
| Chris Townsend | 92 Subaru | 202 ci | 9/24/2023 |
| Bryce Crosby | 94 Probe | 454 ci | 10/6/2023 |
| Braxton Bann | 05 Junior | 5 hp | 10/7/2023 |
| Tim Wilkinson | 69 Camaro | 434 ci | 10/7/2023 |
| Darin Taylor | 76 Nova | 532 ci | 10/7/2023 |
| Kevin Johnson | 15 Dragster | 615 ci | 10/7/2023 |
| Brenda Hawker | 68 Dart | 440 ci | 10/7/2023 |
| Jaymes Buchanan | 21 Supra | 3.0 L | 10/8/2023 |
| Ty Bull | 70 Cuda | 440 ci | 10/8/2023 |
| Kyle Anderson | 77 Camaro | 496 ci | 10/8/2023 |
| Ricky Johnson | 68 Camaro | 477 ci | 10/6/2023 |