The 42nd edition of the Little Caesars Fox Hunt presented by Bronco Motors returns on Fri-Sat, June 14-15 to Firebird Raceway.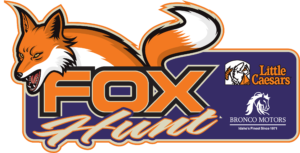 The Great American Night of Thrills offer one unique feature, ALL LADIES RECEIVE FREE ADMISSION!
Making their season debut will be a pair of remarkable Jet cars. Alaskan land speed record holder Derek Snelson will pilot his "Tomahawk" Jet Funny Car against the "Earth Flight" Jet Dragster of Mark Stevens from Colorado. It's a sight to behold as the fire show is unlike any other race car, while speeds will top the 270 mph barrier.
Race fans have long cheered for the Idaho's very own "Outlaw" Wheelstander. Ed and Wendy Jones will be returning to the Fox Hunt to try and traverse the quarter-mile on two wheels.
Presented in part by Good Vibrations Motorsports, this year's race will showcase an amazing line-up Funny Cars, Supercharged Dragsters, Blown Roadster and Doorslammers. In fact, it's the largest field ever assembled in Fox Hunt history. Check out the players from both the Northwest BB/Funny Car and the Blown Alcohol Thunder groups, both of which will be trying to win the overall Fox Hunt title.
Justin Taylor-Vibrance Funny Car
Royce Taylor-Cruiser Funny Car
Brett Lammers-Terminus Funny Car
Jesse Welch-Hartbraker Too Funny Car
Don Harter-Hartbraker Funny Car
Greg Howland-Zeus Funny Car
Ralph Hubert-American Muscle Funny Car
Mike Padur-Tires Inc Funny Car
Mali Greenfield-Idaho Thunder Funny Car
Matt Moreira-Villian Roadster
Jim Currie-Drag Racing Nut Funny Car
Alvin Behar-The Reaper Altered
Jim Seivers-Wild Thing Altered
Pete Ortiz-Outcast Funny Car
Wes Garvin-Raising Hell Altered
Jeff Cassell-Cassell Engines Dragster
Brent Jones-Lawless Funny Car
Rich Bailey-Rocketeer Dragster
Dave Kroeker-B.C. Dragster
Troy Hanneman-Thunder Struck Dragster
Paul Snell -Pro Mod Corvette
Larry DeMott-Under Dog Dragster
The Fox Hunt also offers the mid-Summer stop in the Boise Muffler Gold Cup Series. Categories are open to all racers, with eliminations staged on both Friday and Saturday. Classes include Super Pro, Pro, Sled/Bike, Sportsman, Pro Comp, Nostalgia and Fox eliminators.
More details on the event are available at:
ADMISSION-SCHEDULE-AND MORE
FIREBIRD GOLD CUP RACER FLYER