We would like to invite you to come participate at the 2018 Model Car competition. The scaled model contest will take place at the O'Reilly Auto Parts Boise Roadster Show on March 9-11 at Expo Idaho.
Since the first Roadster Show back in 1973, models have been put on display at the show.  The Model Car contest is open to all types of plastic and metal models, along with RC cars for anyone that has gone to the extra effort to customize their ride. We welcome the full spectrum of builds ranging from custom to restored to racing or any other genre of car or truck.
MODEL CAR ENTRY FORM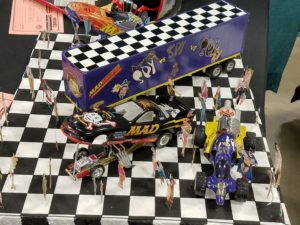 We offer categories for:
1949 and Older
1950 to 1969
1970 and Newer
Racing
Youth (15 and younger)
Remote Control
Overall Best of Show awards are also offered for:
Outstanding Paint
Outstanding Interior
Outstanding Engineering
Outstanding Display
Best of Show Model
You are welcome to pre-register or enter around the back of the Expo Idaho center building on Thurs., March 8th, between 7 pm and 8:30 pm. Model awards take place at 4 pm Sunday. The entry fee for the first entry is $25, while additional entries run $8 ea. You receive a full event hard card with your first entry.