The 50th Anniversary of the O'Reilly Auto Parts Boise Roadster Show returns this Friday thru Sunday, March 10, 11 & 12, 2023. Presented by Les Schwab Tires, the show features many top hot rods, radical customs, wicked street machines, hot trucks, boats, classics, motorcycles and more.
BIG NEWS!!!!
We are positively excited to have special guest Chip Foose return in person to this year's Roadster Show. The acclaimed builder, designer and all around good guy is quite famous his hit t.v. show better known as Overhaulin' that aired from 2004 to present. If you haven't had a chance just yet, be sure and read more about Chip and an amazing career on his website.
Chip last appeared at the Roadster Show in 2018 and all of us are thrilled to have him return on Sat., March 11, from 11 am till 4 pm.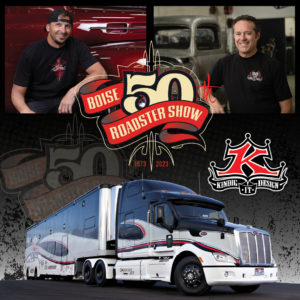 To further celebrate our golden anniversary in 2023, we can't wait to see what our friends at Kindig-It Design have in store this March. Both KevDogg and Will will be on hand, along with special builds from the t.v. show on the Motor Trend channel called Bitchin' Rides.
The Kindig-It team have long supported the Roadster Show over the years. In fact, they first participated in Idaho's biggest motorsport's event back in 2006. Over the years, they've brought special builds like the "Maybelline" 1958 Lincoln Continental, 1964 Cadillac Coupe Deville for Olympic Gold medalist Apollo Ono; the 1934 Dodge Brothers sedan; the 1967 Boss Mustang; the 1947 Cadillac convertible; and the "Copper Caddy" 1960 Cadillac, just to mention but a few.
At last year's show, the team brought a trio of remarkable builds, which included the hot green 1972 Pantera, stunning 1951 Ford pickup, and the scratch built CF1 #4 – 1953 Corvette roadster (which made its public debut at our show in 2022). We can't wait to see what they select to display for our 50th anniversary show this coming March. Learn more about the Kindig-It Design empire by visiting their very information and colorful website.
As Idaho's premiere motorsport's experience, the event will fill all three buildings at the Expo Idaho indoor facility.
Every entry that participates in the show wins an award. The top prize of the Roadster Show is known coast-to-coast as the Goldmark. The Goldmark will go to the one entry deemed "Best of the Best'. The Goldmark wins a cash prize, along with an embroidered jacket and special award statue. The "Essence of Cool", Trendsetter, Wild One, Fire Rod, Mighty Fine, Tompkins Cup, Jack's Pick, KRS Pick and more will also be handed out during the award ceremonies.
A tradition at the Roadster Show every March, the New family will also reveal an honoree for the Master-Builder award, too. This special recognition plaque is presented to a person who has helped to positively influence, shape and make the Roadster Show a better event year-over-year.
FILL IN ENTRY APPLICATION (hyperlink) for cars, trucks, bikes, etc.
2023 ENTRY APPLICATION
---
2023 ENTRY FORM (FILL-IN)
---
COMMERCIAL VENDOR FORM
---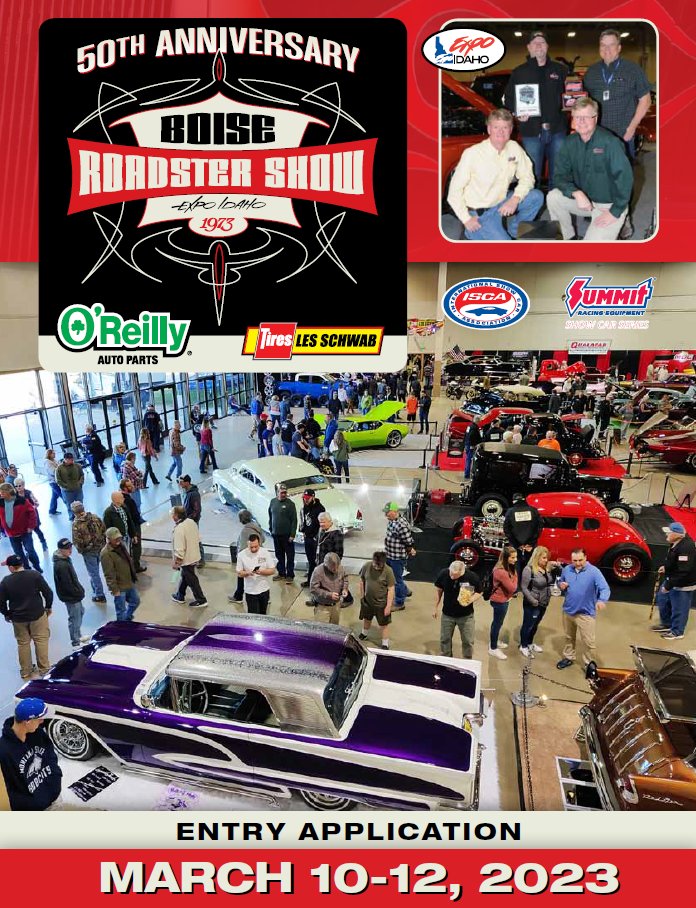 Expo Idaho is located at 5610 Glenwood at the corner of Chinden Blvd. and Glenwood in Boise.