The sport of NHRA Championship Drag Racing takes a great deal of pride in its original motto: "Dedicated to Safety".
Case in point, this is first round pairing in Top Sportsman eliminations between Todd Fricke and Daryl Coe. Just past the finish stripe, the Corvette of Todd Fricke took a right hand turn from the left lane shortly after the chutes deployed. He was racing the turbo Mustang of Daryl Coe. Fricke was on the losing end of a very close double breakout heat against Coe. And just a few hundred feet past the 1320′ stripe, Fricke's split-window Corvette turned right, sending him into a top end two-car collision with Coe.
After a few tense moments, Coe emerged uninjured from his Mustang and under his own power. As both the NHRA Safety Safari and the Firebird Safety Team arrived on the scene, Fricke crawled out from the cockpit of his overturned Corvette without injury. Testimony to all the safety equipment mandated by the NHRA, both cars endured significant damage, but both drivers walked away from the top-end tussle.
On a day that was supposed to be highlighted by Todd Fricke's birthday, it was indeed unfortunate that it ended the way it did.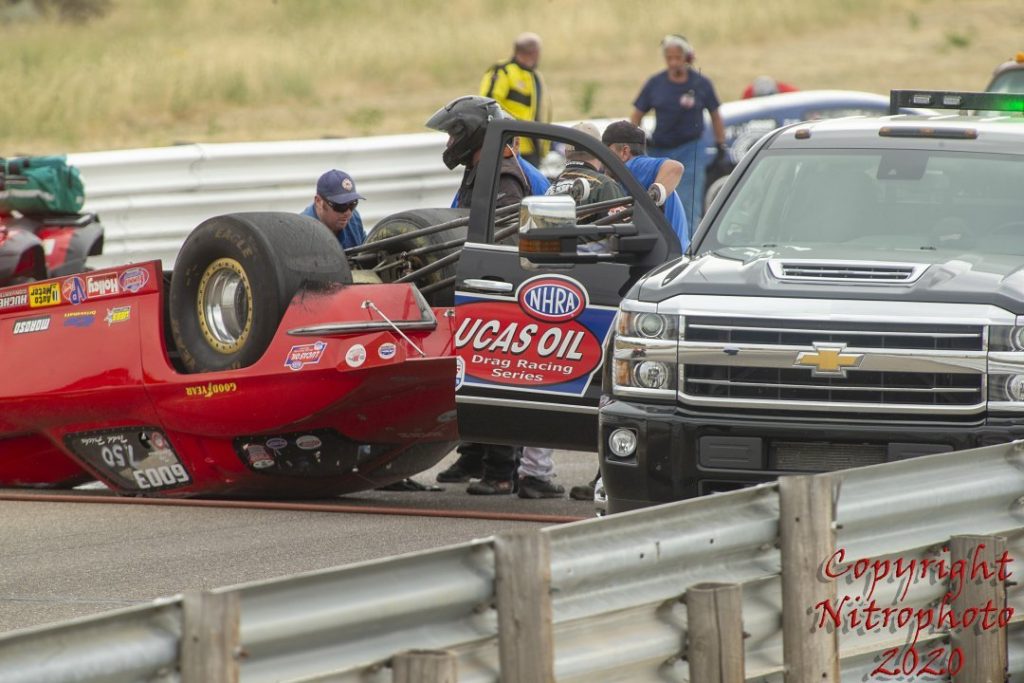 Special thanks to Brian Losness with Nitrophoto Motorsports for sharing this sequence of images from the dramatic Top Sportsman top end accident involving Todd Fricke and Daryl Coe.