It doesn't become available all that often, but one Tower Suite is  presently open for the Pepsi Nightfire Nationals. You can capture all three days/nights – Friday thru Sunday -or- you can select one day/night.
Suites are air conditioned. They offer comfortable seating and spectacular viewing. There's a sink and refrigerator in each suite. The tower also offers nice men's and ladies restrooms. Stereo sound system with the p.a. system broadcast into each of the suites. They comfortably hold up to 14 guests. It's perfect for a company party, family get together or just a great way to view the races from high above the starting line.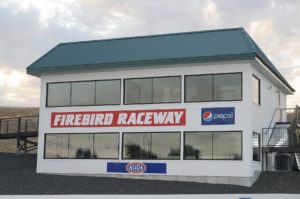 Suites come with pit-side credentials for the day or the event for your party. For an additional fee, you can also pre-order food and beverage (alcoholic beverages or soda's/water) from our catering company.
We don't expect this one (1) suite to be available for too long, so don't procrastinate. If interested, contact Brad at 208 939-9208 or Scott at 208 938-8986. To learn more about what it takes to secure a suite, just click on the button below.
Pricing to Rent a Tower Suite