Family Update (7-8-2020)
Due to the current climate we all live in today, the family of the late Tom Ash wanted everyone to know that the Celebration of Life will be staged at a later (to be announced) date. We hope to update you further when more information is available. Until then, take care.
Regards, Tenille Sorenson and the Ash family
---
REMEMBERING TOM ASH
Enthusiastic, hard working and dedicated are a few of attributes that help describe our friend Tom Ash. Heartbreaking to us all, Tom, 63, passed away from a heart attack on Easter Sunday, April 12, 2020.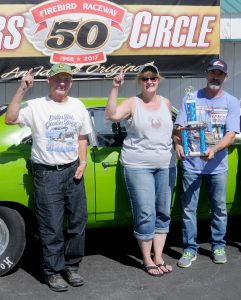 Tom truly loved drag racing. He was a Mopar man to the truest aspect of the Pentastar brand.
He raced a 1970 Plymouth Roadrunner with a very swift 505 cubic inched combination. Initially he started out dipping into the 13's, then the 12's and most recently put together a set-up that was capable of eclipsing the 10 second barrier. For a B-Body, it was one swift ride.
His loyalties not only favored the Mopar namesake, but also his allegiance to the mighty Melba Outlaws club. During their reign of the Club Challenge Silver Cup point's championships, Tom was a ardent team player winning multiple times in the Bracket #1 class. He had a real knack at both the Christmas tree and making his car repeat run-after-run on his dial in.
Going back in time, we wanted to share this personal story. We first crossed paths with Tom some twenty-odd years ago.
"Long before he started putting together a car to race at Firebird, he liked the notion of working out and an occasional jog from time-to-time. The zany idea surfaced to attempt a long distance adventure of running from downtown Eagle to Firebird. It was a hot Summer day. There was a handful of us that decided to give it a shot. We left Eagle, headed north on Ballantyne road, turning west on Beacon Light. When we reached Hwy 16 to head to the raceway, it had to be 90 degrees."

"Even though the traffic on the highway was dreadful (quite honestly, not the best choice for a run), we all somehow made it to the track after an hour and a half of running. To our amazement, since most of us attempted to be semi-competitive, Tom beat all of us in getting to the dragstrip that day. He was just that tough," as Firebird's Scott New remembered that memorable day.
A key staff member for quite a number of years at the Ontario Tire Factory, we will certainly miss seeing him as part of Mike and Dana Drummond's well-respected eastern Oregon tire store.
Every member of the New family, staff and racing community are deeply saddened by the loss of Tom. We are all going to miss our friend. Our deepest sympathies and prayers are extended to his wife Gina, the entire Ash family, close friends and acquaintances.
God speed.