We continue in our series of Flashback stories, waiting ever so patiently for the racing season to resume. Tom McEwen was one of the real personalities in our sport. His legacy filled countless books, magazine articles, newspaper stories and even a full blown motion picture back in 2013 that was more than worthy of its title "Snake & Mongoos$e".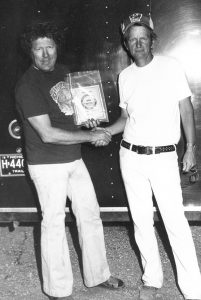 Tom loved to tell stories. Whether it was racing at Orange County or Englishtown, KCIR or U.S. 30, he had a special gift when it came to storytelling. The Goose raced at Firebird quite a number of times. One of his earliest events was a mid-week two out of three match race against long-time friend and rival Don Prudhomme. McEwen nailed down a Nightfire 500 victory in 1978, a Saturday night event that was completed in the wee hours of Sunday morning in front of an SRO house.
One of his favorite tales from yesteryear was the day Firebird track operator Bill New asked him to run an Ignitor event as snow flurries were forecasted in early April. With a cold, but dedicated audience on hand, it all but appeared the day would need to be halted.
But after Tom and Bill conversed in the pit area, it was decided that "the Mongoo$e" would attempt a burnout and follow-up with a short, abbreviated run to try to dazzle the nitro-starved fans. It would be the only time in his career that he would ever run his AA/Funny Car during a snowy, windy day at a dragstrip. He said when he first hit the throttle, it slid. And when he went to use the hand brake, it slid. It was like a no win situation. But somehow, someway he managed to keep it off the wall and finish the run. He said the crowd just loved him for completing the amazing feat.
But the focus of this tale and subsequent photo revolves around the day Firebird hosted an off the cuff "Battle of the Sexes" showcase. It wasn't pre-planned, just a wild idea that came halfway through the 5th Annual Ignitor Nitro Opener.
Part of a four-car match race on April 5, 1975, Tom McEwen was joined by Jerry Ruth, Don Prudhomme and Ed McCulloch. After completing the first round matches, "the Snake" unfortunately was sidelined with a motor that could not get repaired. A pet peeve of the Firebird general manager was single runs when fans came to see two cars compete over the quarter-mile distance.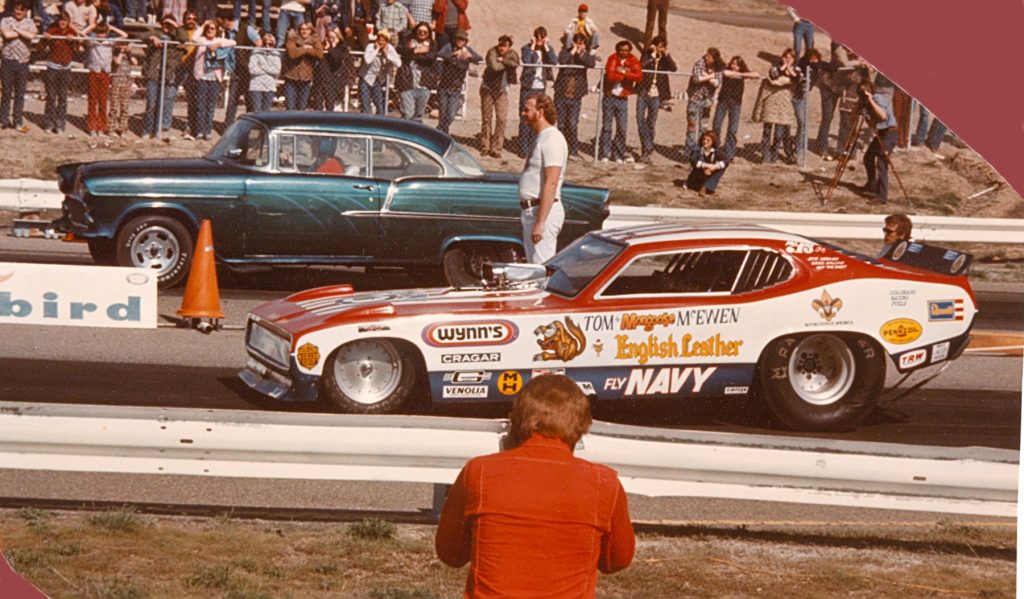 Bill decided to approach Powder Puff competitor Linda Brooks who raced a 1955 Chevy hardtop with an idea. He asked if she would take on McEwen, with a handicapped start in place, to feature Firebird's first ever "guy" vs. "gal", "Nitro Funny Car" vs. "Shoebox Bracket Car" match up. Linda initially thought it was quite the concept. She went back to her pit and asked her husband at the time Duane (who also raced a mid-mid-50's Ford) if he was good with the plan. He said absolutely not. He immediately said it was unsafe and very risky.
After thinking it through a little further, Linda said to hell with his thinking. She was more than game and ready for challenge. This would be a once in a lifetime opportunity.
McEwen was also on board with the zany plan.
To put it mildly, the buzz in the grandstands was incredible.
Announcer Richard Schroeder who was booked in to run his "Bad Bossa Nova" wheelstander was also a master at stirring up the enthusiasm of the fans on the p.a. system.
"Wall-to-Wall", as he was known would ask, "How many want to see the Mongoose blow the doors off Linda's `55 Chevy?", followed up by "OK, how many of you want to watch Linda crush the flopper of Tom McEwen" – and the place went wild. They wanted Linda to dust the Duster.
Veteran starter Tad Pollock from the Bay area was on the button (along with Rocky Church and B.K. Newell backing Tad up as track officials on the starting line). As memory serves, there would be no breakout, just a 6.5-second handicap start on the Pro four-tenths tree.
To the delight of all in attendance, McEwen would would have to peddle his car mid-way through a decent 7.19-195.15 mph attempt.  To the delight of the crowd, Linda would cross the finish line just ahead of the English Leather/Navy-backed FC. Linda posted a 13.71-101.21 and most importantly the win light came on in her lane. The packed house was so jazzed, people in nearby towns of Emmett and Star could almost hear their enthusiasm and approval.
Linda earned the right to be called "Queen of Firebird" for a day. It was quite a memory for all those who were there to watch that historic race some 45 year ago nearly to the day.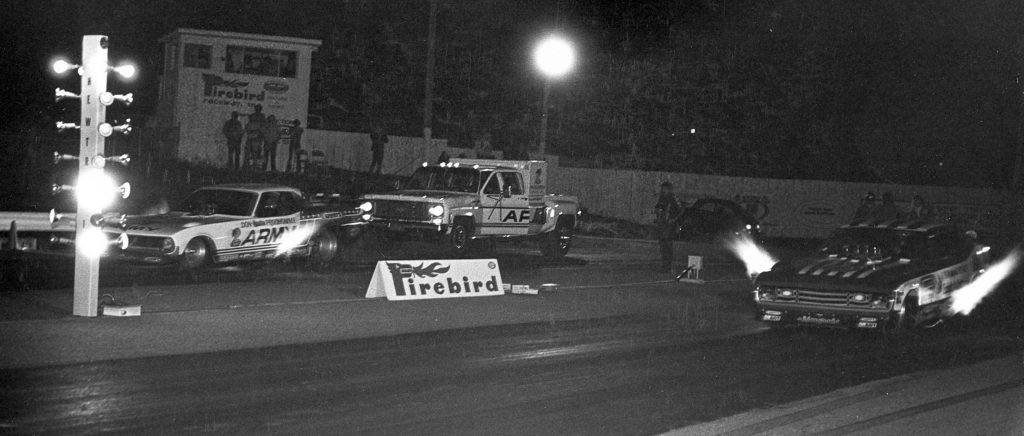 Early photo credit – the late Sam Callaway and Betty Ramsey, night-time image of "Snake" vs. "Mongoose" match race, bottom.