Congratulations to every member of the Firebird team for winning the 2023 Manager's Cup at the Summit E.T. Finals staged at Woodburn Dragstrip outside Woodburn, Oregon.
Sixty-two of Firebird's top racers competed over the course of the August 30-Sept. 4, special event.
Competing in the Race of Champions, both Zach Meziere (Super Pro) and Paxton Squire (Jr. Street) earned victories, while Roy Barrera (Bike/Sled) was runner-up.  Team Firebird was deadlocked with the home track Woodburn team, but earned the title by way of the divisional tie-breaker. Congratulations to everyone who supported this year's amazing effort!!!
Earlier in the day (on Monday), both Zach Meziere (SP) and Cody Waisner (SM) swept main event victories in the Team Finals classes. Sean Shaffer also earned the Best Appearing Super Pro dragster plaque, which was selected by the Division 6 Certification team.
Top Five Teams – 2023 MANAGER'S CUP
1. Firebird 57 *
2. Woodburn 57
3. Renegade 47
3. Pacific 47
4. Bremerton 41
5. Portland 37
*won tie-breaker for the overall title
Top Five Teams – 2023 TRACK CHAMPIONSHIP
1. Woodburn 95
2. Renegade 81
3. Walla Walla 64
4. Firebird 58
5. Bremerton 57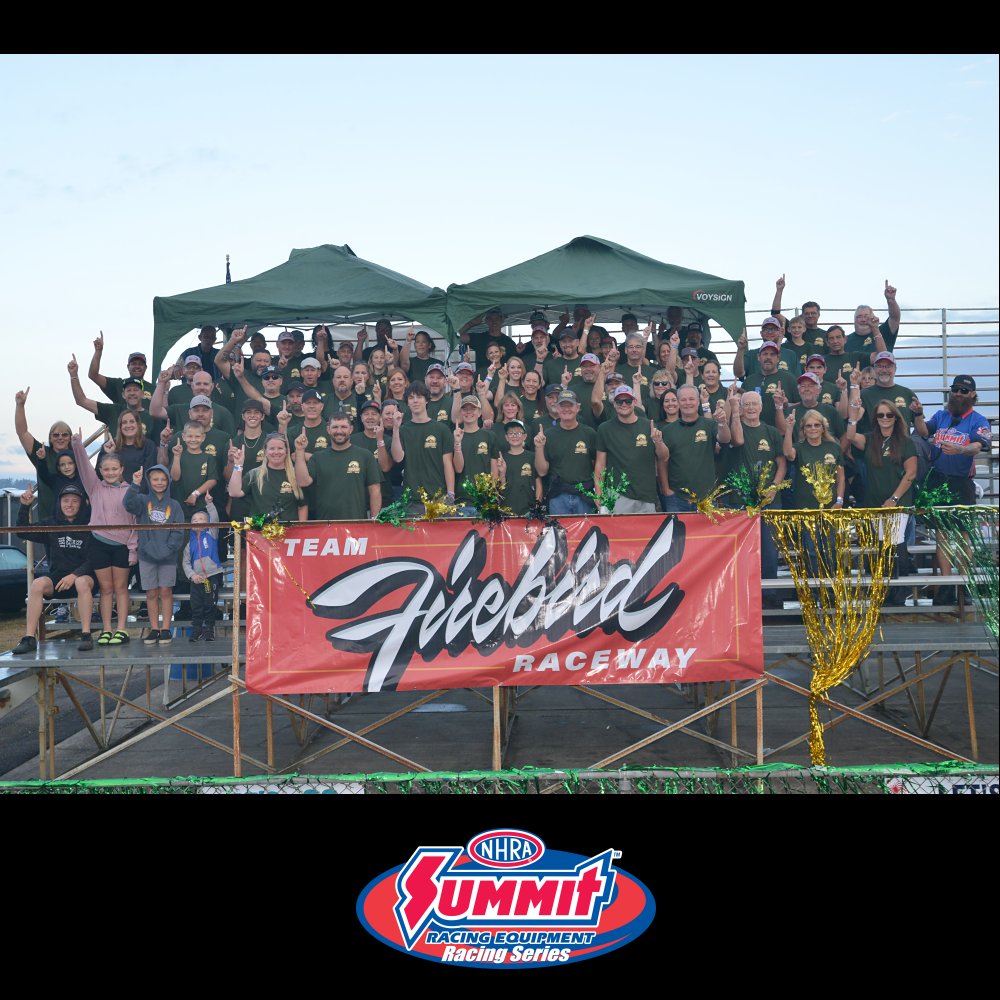 Team Firebird 2023
Super Pro
Pierson Deming
Todd Coltrin
Chad Campbell
Zach Meziere
Sean Shaffer
Robert Glembocki
Victor Clark
Kevin Johnson
Ron Freedle
John Shaffer
Aly Clark
Jesse Boepple
Pro
Stan Deming
John Tobias
Zak Pedraza
Lisa Thomas
Shannon Campbell
Larry Saunders
Carl Youngstrom
David Deming
Bobby Day
Karisa Windley
Ken Windley
Jacob Phelps
Davis Deming
Steve Reynolds
Casey Youngstrom
John Bryant
Richard Rush
Bradley Bohning
Randy Standlee
Leann Day
Michael Clement
Sportsman
Connor New
Chris Townsend
Ashley Day
Katy Phelps
Nathan Stansberry
Beau Hansen
Summer Field
Rich Pedraza
Cody Waisner
Leslie Emery
Wendy Grondahl
Bike/Sled
Dan Jones
Zak Pedraza
Jesse May
Scott Grondahl
Dylan Miller
Roy Barerra
Junior Dragster
Summer Field
Journey Morell
Camryn Stocker
Kason Guisti
Ryan Barlow
Madison Slavik
Abigail Bernal
Mackenzie Higgins
High School
Summer Field
Casey Youngstrom
Junior Street
Paxton Squire
Miley Raga