Since 1978, Firebird racers have traveled to the Division 6 Team Finals in force. No different in 2016, we are looking forward to heading to Mission Raceway Park in Mission, British Columbia, for the Summit E.T. Finals over Labor Day weekend.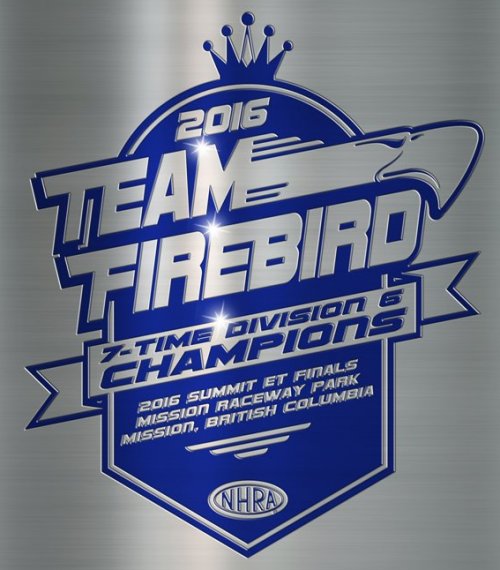 Team Firebird is loading the cannons with a strong field of racers heading to one of the fastest tracks on planet earth. Located next to Fraser River, the track sits literally at sea level, providing plenty of oxygen-rich conditions that race cars love.
Although many spots have been spoken for, we still have room on the Firebird team if you'd like to join us. A minimum of 3 event race days and a registration is requisite to participate on the team. But if you have a passport (to cross the border) and want to attend, please let team captain Tami Shaffer know pronto. Her email is: [email protected].
The competition will no doubt be stiff, but it's time for Firebird to head to Mission on a "mission" to bring home titles, cash and NHRA Wally trophies. It's testing on Thursday, a special Gambler race open to all competitors on Friday, the Race of Champions on Saturday (which includes a trip to Pomona and the NHRA World Finals to each of the champions) and then the main Team Race on Sunday.
Team Firebird racers – note: Mission is accepting checks from all U.S. racers.
Let's go up there and clean house. Wouldn't it be cool to put a ton of Firebird racers in victory lane!!!!
Confirmed Firebird Team
As of August 29, 2016
Super Pro
Sean Shaffer
Christopher Northup
Chris Jaggers
Brad Todd
Sam Northup
John Shaffer
Darrell Carr
Cody Hiatt
Craig Tharp
Pro
Joe Witherspoon
Chris Wingert
Carl Youngstrom
Ryan DuBois
Dan Wilder
Steve Pyburn
Ron Liese
Sportsman
Troy McDonald
Mike Ritz
Brad Bohning
Steve Wingert
Michael Jaggers
Dan Hurlbert
Kyle Witherspoon
Carl Youngstrom
Mary Liese
Sled/Bike
Chad Hofert
Zak Pedraza
Craig Jensen
Rich Pedraza
Kevin Hutto
Jay Mendes
Junior Dragster
Hannah VanderMeer
Layne Fiscus
Justin Hof
Casey Youngstrom
Summer Field
High School
Michael Jaggers
Team Captains
Tami Shaffer
Lindsay Shaffer
Info Sheet for Team Finals