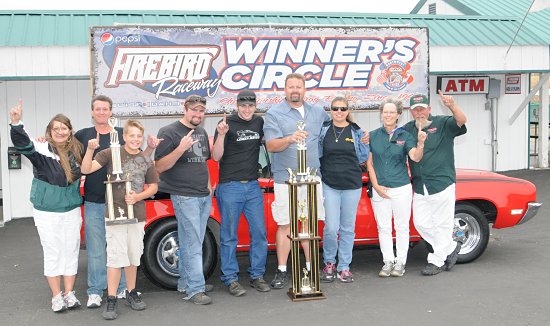 9TH ANNUAL AMERICAN CLASSIFIEDS FALL SWAP MEET
United Oil Sportsman
Tyler Rush, Kuna, .037, 13.20 (13.13 dial) 90.48 def. Mike Ritz, Boise, .071, 13.02 (12.97 dial) 110.60.
Semi-David Meimann; Kyle Witherspoon.
Quarter-Rachel Rush; Don Bruce; Rex Petersen.
100-102 MPH CLUB
Scott Rowland, Notus, .034, 13.40 (13.40 dial) 92.55 def. Bobby Scroggins, Nampa, .076, 13.30 (13.18 dial) 99.81.
Semi-Ryan Greenhalgh.
103-109 MPH CLUB
David Meimann, Middleton, .030, 13.26 (13.29 dial) 104.82 def. Paul Hirt, Garden City, .068, 13.04 (13.10 dial) 105.89.
Semi-Rex Petersen.
Quarter-Tim Shawver; Bret Ward; Dan Hurlbert.
110 MPH & Faster CLUB
Jim Coryat, Nampa, .049, 10.91 (10.91 dial) 120.46 def. Travis Bowins, Meridian, .026, 12.15 (12.17 dial) 108.63.
Semi-Derek Greenhalgh; Ed Wong.
Quarter-Bruce Boulan; Mike Ritz; Josh Hinkley; Carl Klint.
King Kong 100 MPH Runoff
Scott Rowland, Notus, .041, 13.29 (13.30 dial) 95.38 def. David Meimann, Middleton, .149, 13.22 (13.24 dial) 106.26.
Semi-Dave Allen; Jim Coryat.
Street Bike – 100 MPH CLUB
Dave Allen, Meridian, 9.65 (9.56 dial) 128.70 def. Kellen Birch, Rexburg, 10.71 (10.50 dial) 134.85.
Semi-David Kletzien.
Quarter-Liz Micheletty; Gerard Stanberry.

Domestic v. Import #1
Ron Wurtz, Caldwell, .054, 12.34 (12.39 dial) 103.47 def. Zak Pedraza, Boise, .072, 10.90 (10.97 dial) 116.26.
Semi-Derrik Greenhalgh; Jim Coryat.
Qaurter-Glen Phillips; Dusty Howsden; Mike Smith.
Domestic v. Import #2
Stephanie Meimann, Middleton, .118, 14.65 (14.64 dial) 95.71 def. Perry Hammons, Caldwell, .126, 15.59 (15.69 dial) 86.43.
Semi-Ashton Davis.
Quarter-Tyler Cummings; Adam Wurtz.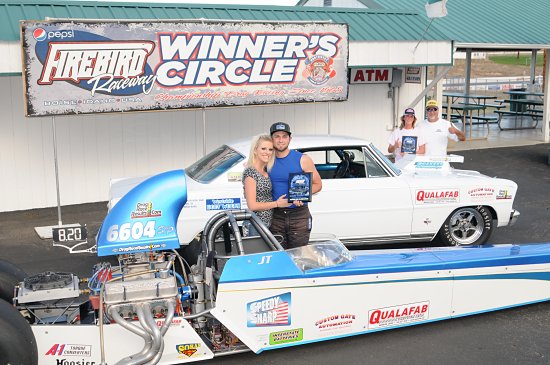 Boise Muffler Gold Cup Championship Series
Super Pro
Jason Thomas, Meridian, .014, 8.17 (8.20 dial) 165.01 miles per hour def Judy Radford, Baker City, Ore., -.019 foul, 8.20 (8.21 dial) 165.95.
Semi-Steve Reynolds.
Quarter-John Shaffer; Ed Cutler.
Pro
Lisa Thomas, Meridian, .078, 9.84 (9.84 dial) 136.13 def. Stan Deming, -.004 foul, 10.64 (10.62 dial) 116.14.
Semi-Steve Holland.
Quarter-Bruce Compton; Mike Drummond.
Sportsman
Ashton Davis, Middleton, .043, 17.89 (17.86 dial) 74.76 def. Derryl Winters, Nampa, .067, 13.26 (13.29 dial) 104.39.
Semi-Glen Phillips.
Quarter-Clyde Hughes; Tyler Rush.
Sled/Bike
Rich Pedraza, Boise, .014, 9.13 (9.13 dial) 141.55 def. Craig Jensen, Chubbuck, .017, 9.63 (9.70 dial) 126.88.
Semi-Zak Pedraza; Scott Grondahl.
Quarter-Zane Robinson; Courtney Smith; David Wood; Deb Bittick.
Nostalgia
Ryan Resinkin, Emmett, .046, 11.60 (11.57 dial) 112.12 def. Jeffrey Langan, Boise, .096, 11.52 (11.52 dial) 110.82.
Semi-Tom Ash; Carl Youngstrom.
Quarter-Glenn Watts; Linda Rowland; Greg Buckert; Duston Wurtz.
Junior Dragster
Casey Compton, Boise, .057, 7.93 (7.90 dial) 78.97 def. Paul Sheridan, Boise, .040, 8.48 (8.42 dial) 71.77.
Semi-John Burke Jr.; Wes Morris.
Quarter-Michael Jaggers; Justin Hof; Hannah VanderMeer.
Trophy
Byron Stewart, Meridian, .171, 14.53 (14.50 dial) 95.58 def. Sandra Alberti, Boise, .315, 15.23 (15.56 dial) 91.85.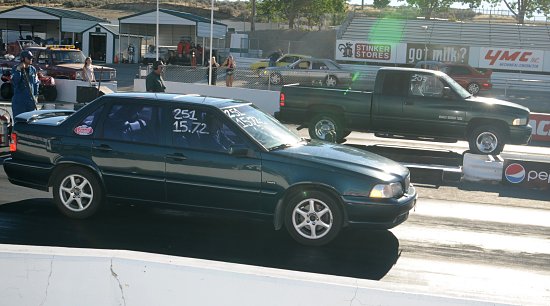 UNITED DAIRYMEN/CWI FALL HIGH SCHOOL & ALUMNI SERIES FINALS
High School #1
Amanda Luckow, Emmett HS, .110, 14.92 (14.93 dial) 93.40 def. Maggie Watts, Centennial HS, .164, 14.84 (14.98 dial) 91.68.
Semi-Adam Wurtz, Meridian HS; Christopher Northup, Borah HS.
Quarter-Joey Maas, Eagle HS; Sabra Rasmussen, Renaissance HS; Katy Sterling, Middleton HS.
High School #2
Dustin Smith, Middleton HS, .170, 15.92 (15.72 dial) 82.01 def. Hayden Quilter, Renaissance HS, .167, 17.98 (18.08 dial) 75.72.
Semi-Sydney Frost, Capital HS; Douglas Hessenthaler, Renaissance HS.
Quarter-Bubba Parsons, Middleton HS; Brandon Johnson, Middleton HS; Mike Colson, Renaissance HS.
Junior Dragster
Michael Jaggers, .104, 8.69 (8.61 dial) 66.16 def. Justin Hof, .117, 11.77 (9.12 dial) 32.86.
Semi-Levi Burke; Paul Sheridan.
Quarter-Casey Compton; Hannah VanderMeer; Austin Coates.
Alumni #1
Luke Jacobson, .074, 12.78 (12.80 dial) 104.17 def. Linda Rowland, .056, 11.73 (11.75 dial) 112.05.
Semi-Tim Shaw.
Quarter-Blaine Sterling; Joe Witherspoon; Mike Smith.
Alumni #2
Travis Sterling, .039, 15.33 (15.33 dial) 85.19 def. David Meimann, .066, 14.56 (14.50 dial) 95.52.
Semi-Kristi Shawver.
Quarter-Harry Packwood; Ashton Davis.
Street Bike
Liz Micheletty, .021, 10.17 (10.10 dial) 134.91 def. David Kletzien, .151, 9.57 (9.52 dial) 143.83.
Semi-Dave Allen; Eric Sprague.
Quarter-Brian Batten; Mark Sprague; Mike Smith.
Outlaw Street
Stephanie Meimann, .100, 14.65 (14.50 dial) 91.19 def. Adam Wurtz, .293, 14.68 (14.65 dial) 91.21.
Semi-David Meimann.
Quarter-Linda Rowland; Jeff Bell; Doug Wikfors.
Street Truck
Maggie Watts, .089, 15.18 (15.15 dial) 89.08 def. Alan Clarke, .218, 14.39 (14.44 dial) 92.33
Semi-Walt Hooker; Tyler Rush.
Quarter-Ashton Davis; Tyler Nebeker; Gina Luckow; Brady Jesser.
Sport Compact
Rich Pedraza, .080, 14.32 (14.13 dial) 93.18 def. Ed Scott, .199, 17.23 (17.16 dial) 75.49.
Semi-Zak Pedraza.
Quarter-Pam Zollinger; Perry Hammons.
Super Shifter
Carl Youngstrom, .138, 14.27 (13.99 dial) 82.05 def. Glen Phillips, .044, 13.04 (12.57 dial) 108.61.
Semi-Richie Pedraza.
Quarter-Ed Scott; Zak Pedraza; Rich Pedraza.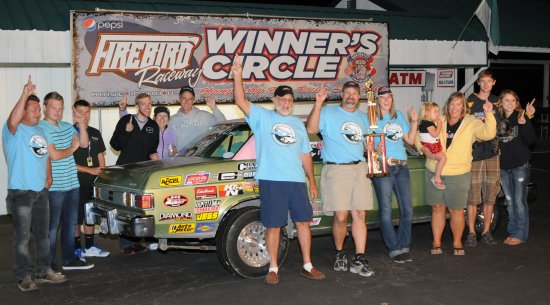 FAIRLY RELIABLE BOB'S CLUB CHALLENGE SERIES FINALS
Club Bracket #1
Tom Bittick, Melba Outlaws, .024, 11.38 (11.33 dial) 117.67 def. A.J. Armstrong, Venom Racing, .056, 10.58 (10.56 dial) 126.13.
Semi-Steve Pyburn, Melba Outlaws.
Quarter-Bruce Stewart, PSI Racing; Randy Williamson, Melba Outlaws.
Club Bracket #2
Roger Petty, Mopars Unlimited, .012, 12.00 (12.00 dial) 111.41 def. John Wong, Flying Brick, .038, 12.14 (12.19 dial) 110.59.
Semi-Tom Davis, Melba Outlaws; Clyde Hughes, Mopars Unlimited.
Quarter-Glen Phillips, PSI Racing; Terol Rasmussen, Melba Outlaws; Les Maiden, Melba Outlaws; James Higgins, Melba Outlaws.
Club Bracket #3
David Meimann, Modern Rodders, .090, 14.56 (14.54 dial) 92.10 def. Mike Dome, Modern Rodders, .144, 14.39 (14.42 dial) 95.69.
Semi-Tanner Vavold, Neighbors Nightmare; Mike Ritz, Valley Vettes.
Quarter-Kyle Witherspoon, Down `n Dirty; Jason Squire, Venom Racing; Tyler Rush, Kuna Knuckle Draggers.
Club Bracket #4
Travis Sterling, Door Slammers, .017, 15.33 (15.22 dial) 80.81 def. Sabra Rasmussen, Melba Outlaws, -.013 foul, 13.80 (13.60 dial) 96.35.
Semi-Earl McCollough, Melba Outlaws.
Quarter-Perry Hammons, Down `n Dirty; Ricky Vanoski, The Hustlers; Josh Cirelli, Flying Brick.
Club Bracket #5
Kyle Barker, Down `n Dirty, .099, 16.15 (16.10 dial) 76.71 def. Wiley Hinkle, Mopars Unlimited, .107, 16.27 (16.06 dial) 83.94.
Semi-Robert Smith, Down `n Dirty; Teresa Kupser, Mopars Unlimited.
Quarter-Brittni Unser, Kuna Knuckle Draggers; Robert Johnson, AMC Racing; David Whitaker, The A-Team; Tim Harris, PSI Racing.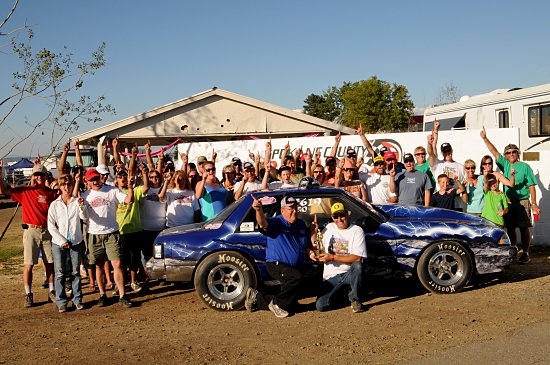 SUMMIT E.T. FINALS: SUNDAY
Firebird racers celebrated around the Mustang of Chad Campbell shortly after he scored the Pro eliminator class title at the Summit E.T. Finals. Campbell ran impressively throughout eliminations. In round one, he recorded a .060/10.39 on a 10.40 dial to easily beat Amanda Bollinger (redlighting with a -.132 light). In round two, Chad beat Virginia Wright with a .025/10.50 (10.45 dial) when Wright broke out by .04. In round three, he stopped Dave Nassimbene with a .012 and a perfect 10.48 on a 10.48 (his opponent ran under by .03). In a fourth round heavy hitter match-up, Chad dealt out new Division 6 Pro winner Chris Stone (who won on Saturday) with a .032/10.47 (10.46 dial) against a losing .035/10.67 (10.69 dial). In round five, opponent Stefan Kondolay drilled a .011, but ran .03-under, allowing Chad to advance with a .022/10.48 (10.47 dial). In the quarter-final round, Chad ran .040/10.47 (10.40 dial) to upend Jack Ward from Bremerton who finished at .133/10.35 (10.34 dial). He earned the odd-lot bye in the semi's, running 10.46 (10.42 dial). In the final, it was Firebird against Woodburn, Campbell against Nicholas Shepherd. Running .019/10.48 (10.47 dial), Campbell would collect the biggest victory of his racing career. Shepherd finished runner-up with a .061/10.87 (10.88 dial)
Congratulations to Chad and all the Firebird racers who stuck around and celebrated in the Spokane Winner's Circle (pictured above)!
Other top finishing Firebird racers included: Craig Jensen, who finished in the quarters (7 still in) of Sled/Bike; Rachel Rush in Sportsman-eighth final round (16 entries still in); and both Judy Radford and Cody Hiatt in Super Pro, both of which were eliminated in the fourth round of racing. David Deming also survived until the fourth round of Pro before redlighting by -.006.
Firebird earned a sixth place showing in the final standings as Woodburn Dragstrip won its second straight title led by two big victories on Sunday. Both Dave Sattem and Jerry Durant Jr. (who won Sunday's race for the second year in a row) collected victories in the Team Race.
The final points came down to Woodburn 74; Bremerton 62; Spokane 53; Walla Walla 53; Pacific 45; and Team Firebird 43.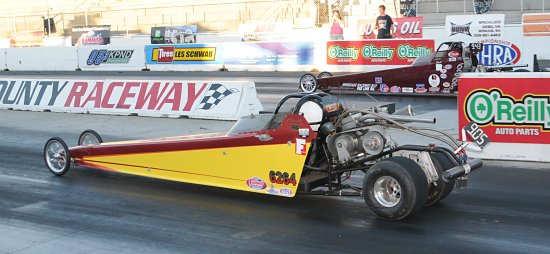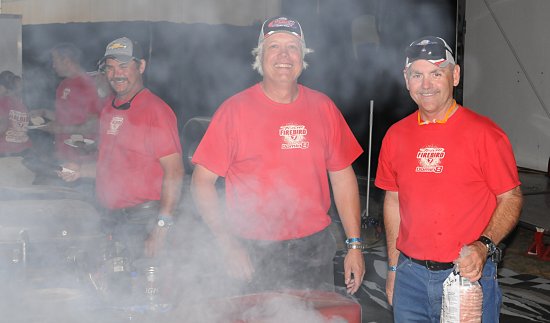 SUMMIT E.T. FINALS: SATURDAY
Team Firebird put together a valient effort and came oh so close to scoring a win on Saturday during the Race of Champions. Losing a tight final round heat, former Division 6 Junior Thunder champion Chandler Steen (pictured above) finished runner-up to a Bremerton competitor (Josh Schmanke) in the Thunder final round. In another very close race, Sean Shaffer survived the longest of all the Firebird racers in the Super Pro class, bowing out in the final five of eliminations. One round back (with ten racers  still in) Cody Hiatt was involved in a nail biter of a race, but came up on the short end of the stick. One round back (with nineteen racers still in), both Steve Reynolds and Chris Jaggers were stopped short of in eliminations.
In Pro, Firebird lost five racers in one of the third rounds of eliminations (those who fell earlier included: Chad Campbell, Jim Dillon, Randy Williamson; Bruce Stewart). In Sportsman, Derryl Winters was the final Firebird racer in during the Race of Champions. In High School eliminations, both Dustin Smith and Hayden Quilter won the first, but lost in round two. In Junior Lightning, the highest finishing competitor was Wes Morris with a redlight start.
Following Saturday's races, a big cookout was conducted on behalf of the New Crew and staff. In fact, better than 100 racers and their families/friends were treated to burgers, dogs, chicken and an assortment of goodies and refreshments. Special thanks to Karen Law and Debbie New for pulling together the big feed. They were joined by "head fred" cooks Dennis Law, Dennis Radford and Kendall Smith (pictured above). In addition, team captains Tami Shaffer and Nanette Cox orchestrated the team seating area, decorations and a lot of the other team stuff.
One day remains and Sunday will take over the center of attention for Team Firebird competitors. A total of 50 racers will compete for Firebird Raceway in Super Pro, Pro, Sportsman and Sled/Bike. Both Junior Lightning/Thunder and High School eliminations were completed on Saturday afternoon.
Wish us LUCK!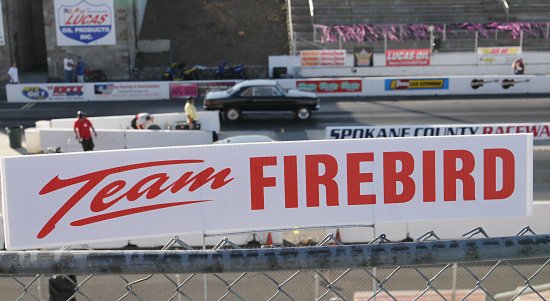 SUMMIT E.T. FINALS: FRIDAY
The Firebird team filled to capacity by the end of Friday's race day `n night on the second day of the Summit E.T. Finals. A total of 58 racers arrived by nightfall at the Spokane Country Raceway packed with racers and transports competing on 18 Division 6 dragstrips. The day featured temperatures in the 80's under partly cloudy skies and a strong influence of gusty winds out of the southwest.
After a morning filled with time trial runs the track turned into a beehive of Gambler action. Firebird racers looked very impressive throughout eliminations. Earning the first Firebird title of the weekend, Rachel Rush won the Sportman Gambler race as the night came to a close just past 10:30 pm (Pacific time). Both Ed Cutler (Super Pro) and Stan Deming (Pro) were both still in eliminations, too, when racers decided to split the purse in the semi and final roun do each class, respectively, making it a huge day for the Firebird contingent! Also finishing in the late rounds of racing, Chad Campbell waded his way all the way into the quarter final round of the Pro class before turning on the redlight.
Two Firebird racers encountered mechanical issues during Friday's time trial and Gambler action. First, Melissa Jarboe bent a push rod in her Vega Pro bracket ride. Thanks to John Shaffer, she was able to take one of his backup push rods and get her combination back in order. Not long after, John Shaffer had his motor make a funny sound during the first round of the Gambler race, which forced him to shut his Chevelle down early. Racing team-mate Darrell Carr who advanced in the round, Shaffer got back to the pits to learn that he broke a valve (severely bent) and was making plans to a local racer's machine shop to get both his head fixed and a new valve installed into his Nightfire winning ride.
We can't wait for Saturday and the acclaimed Race of champions where Firebird will position 6 racers in Super Pro, Pro and Sportsman. Five riders will also be competing in the Sled/Bike eliminator. Futhermore, six Junior racers will be in the mix of things, along with our top two High School racers.
Good luck to TEAM FIREBIRD!
8:30 am update (during the breakfast get together) 8/31/13: CONGRATULATIONS to Firebird's Rachel Rush who scored the Sportsman title, which came with a $990 payday! Stan Deming in Pro split the money with Zach Craig. Each racer collected $1650 (or a combined $3,300 in final round prize money). In Super Pro, Ed Cutler made it down to the final four when drivers agreed to split the purse ($5,800 left in prize money). It was a fine day for the Firebird crew.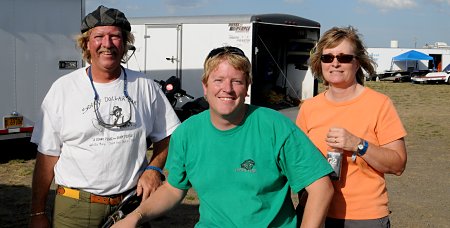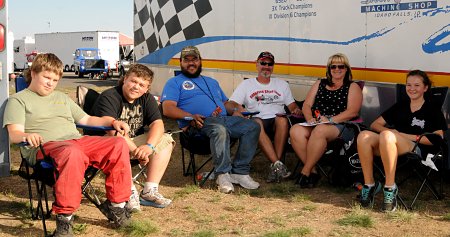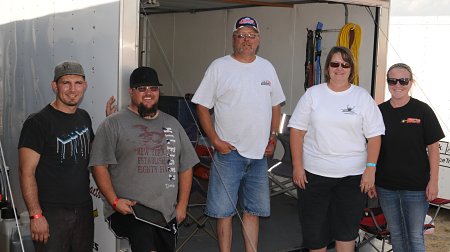 FIREBIRD RACERS TAKE ADVANTAGE OF TESTING OPPORTUNTIES ON OPENING DAY OF TEAM RACE
The Summit E.T. Finals was in full swing on Thursday at Spokane County Raceway in Airway Heights, Wash. Better than 50 of Firebird's top racers were on hand for the afternoon and evening loaded with testing and practice runs. New for the 2013 event, this would mark the first time in the 35 year history of the Finals for it to be hosted at the seasoned Spokane race facility. Racers who took advantage of testing on Thursday included Chris Jaggers, Sean Shaffer, Cody Hiatt, Judy Radford, Darrell Carr, John & Jim Cox in Super Pro; in Pro, a number of runs were recorded by Randy Williamsoon, Chad Campbell, Bruce Stewart, Steve Pyburn, Larry Lamberson, Andy Strunk, Jim Coryat, Sue Reynolds, Doug Wikfors, Tim & Kristi Shawver, Brent Borchers (with wife Tanya's Camaro), Melissa Jarboe, Hayden Quilter (in the Terol Rasmussen Chevy II he will also run in High School); in Sportsman, testers included Stephanie & David Meimann, Ashton Davis, Lynde Fischer, Derryl Winters, Duston Wurtz, Rachel Rush, Kyle LePire, Sled/Bike saw runs by all three Pedraza's and Craig Jensen; along with the Juniors of Paige Harris, Levi Burke, Paul Sheridan and Chandler Steen. Many were not only getting ready for the main event's over the weekend (Race of Champions and Team Race), but also for the Gambler "race within a race" set for Friday afternoon/evening.
In addition, a team captain's meeting was orchestrated by Dennis Boley with  Division 6, along with the NHRA representative Matt Levonas (who is on hand from Division 5) and Chuck Sundstrom with Spokane County Raceway. Nanette Cox did an admirable job of helping establish Firebird's area for pit parking, along with coordination of Firebird's on-site details (and will be joined by Tami Shaffer, the team's co-captain).
FIREBIRD SENDING 58 RACERS TO NHRA SUMMIT E.T. FINALS IN SPOKANE
One of the largest participant events in the Pacific Northwest, the Division 6 Summit E.T. Finals is set to take place Thursday-Sunday, August 29-31, September 1, 2013. The NHRA special event will take place at Spokane County Raceway in Airway Heights, Wash., hosting over 500 racers from 18 northwest race tracks.
This NHRA special event rotates between a variety of cities, including Kent, Wash.; Woodburn, Ore.; Mission, B.C.; and Boise. The team race will be hosted again by Firebird in 2015.
All 18 northwest race tracks will have an opportunity to bring 58 racers per region, competing head-to-head in team competition. Firebird will be sending full team of racers to Spokane (`12 team pictured above from Seattle). Team Firebird has won seven track team titles (1988, 95, 00, 01, 08, 09, 11). This year's slogan revolves around the goal of winning an eighth track championship so what better way to put than by simply say we plan to "DominEIGHT!" this Labor Day weekend.
Team Firebird 2013
Super Pro eliminator
Chris Jaggers*; Sean Shaffer*; Cody Hiatt*; Camille Shaffer*; Ed Cutler*; Steve Reynolds*; Judy Radford; John Shaffer; Mike Osmus; Darrell Carr; John Cox; Jim Cox
Pro eliminator
Randy Williamson*; Chad Campbell*; Bruce Stewart*; Stan Deming*; Steve Pyburn*; Jim Dillon*; Larry Lamberson; Andy Strunk; Jim Coryat; Sue Reynolds; David Deming; Doug Wikfors; Tim Shawver; Kristi Shawver; Brent Borchers; Melissa Jarboe; Joe Witherspoon; Gary Kruger; Glenn Watts
Sportsman eliminator
Stephanie Meimann*; Tyler Rush*; Ashton Davis*; Lynde Fischer*; Kyle Witherspoon*; Derryl Winters*; Duston Wurtz; David Meimann; Rachel Rush; Mike Ritz; Lucas Hull; Steven Shideler; Kyle LePire; Zak Pedraza
Sled/Bike eliminator
Scott Grondahl*; Richie Pedraza*; Rich Pedraza*; Craig Jensen*; Zak Pedraza*
Junior Dragster
Michael Jaggers; Wes Morris; Paul Sheridan; Chandler Steen; Levi Burke; Paige Harris
High School
Dustin Smith; Hayden Quilter
Race of Champions Qualifier (Saturday, 8/31)
Team Captains
Tami Shaffer
Nanette Cox