The world of drag racing lost one of the true legends of our sport on September 18, 2023, with the passing of Walt Austin from Tacoma, Wash.

The patriarch of Walt Austin Racing (WAR), Walt retained a pedigree in racing that is truly unparalleled and remarkable over a time span that traversed all the way back to the 1950's.
Walt first set foot on the Firebird racing facility shortly after the track completed its first season in operation. The year was 1969. The event was the inaugural NHRA World Championship Series meet hosted in the foothills just northwest of Idaho's capital city of Boise. Hot off sweeping the NHRA Winternationals in Pomona, the Austin & Grassi Top Gas dragster would go on to earn the Firebird Division 6 title with Dave Grassi behind the wheel (winner's circle with Miss Firebird at right). They would stop the blown dragster of Nick Wehling 8.17-187.11 to 8.20-186.23 in a tightly contested Top Gas final round duel.
Walt would go on to own and campaign quite a number of race cars in a wide variety of classes. Most noteworthy was the cache of Top Fuel, Top Alcohol/Funny Car and Top Alcohol/Dragster rides raced by his two sons Pat and Mike Austin. They were not only very competitive, but some of quickest and fastest in each of their respective categories. They scored countless titles and championships over a time span of several decades.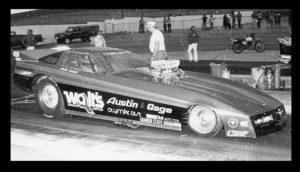 Tracing back among literally hundreds upon hundreds of racing events, Walt competed with Bob Gage with a BB/Funny Car at Firebird during the heyday of the early Nightfire races in the mid-80's. He also joined forces with a unique and very powerful Ford powerplant to compete with Garrett Richards, attending races in 2014-15 (both the Firebird Fox Hunt and Nightfire races).
One of the real milestone moments at Firebird came during the 2015 Nightfire Nationals. Walt's younger brother Bucky scored the AA/Funny Car title with pilot Kris Krabill. Looking back in time, the two siblings were easily two of the most competitive teams in our sport. They were driven to win, win, win. They competed tooth `n nail, track to track, from one side of the country to the other, often battling for divisional and national crowns. But on this night after the race concluded up in the Treasure Valley foothills the two joined together to celebrate in Firebird's Winner Circle (photo at bottom of page) as one big family of champions. It was a night none of us will ever forget.

His legacy most certainly stands the test of time. He accomplished so much that it could literally fill an entire library packed with hard-bound books.
More recently, the second and third generation of the Austin family, namely Pat and his son Drew (and team)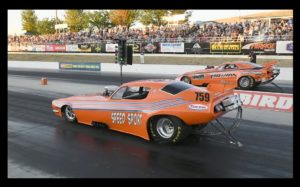 were able to make a last minute decision to attend and participate at the 52nd Annual Nightfire Nationals. After inclement weather knocked out the Funny Car final round at the Season Opener in May, both Jim Maroney and the Austin family agreed to settle the Ignitor final round on Saturday night during final qualifying at the Nightfire.
Drew Austin would emerge victorious, scoring the Ignitor title in a 5.87 to 5.95 decision over the Speed Sport Camaro. To our recollection, the father and son team would become the first outright member of the WAR racing family to win at Firebird since 1969, a time span of some 54 years!
All of us in the New family and our entire staff send our deepest condolences and prayers to the Austin families. For all that Walt gave, we are indebted to his commitment, enthusiasm and passion throughout all his years directed towards our sport and life in general. Whether in racing or in business he always had a keen and savvy sense of how to succeed and to win. This is one of many reasons we had so much respect and high regard for Walt Austin, someone that will be sadly missed, but forever remembered.
Good speed and God bless.