We were saddened to learn of the recent passing of veteran drag racer Rich Scrivner at age age of 72 on July 2, 2022. In his honor, we flew the flag at half-mast during the double header Fourth of July racing weekend at Firebird.
Over the course of the past forty years, you would quite often find Rich out at Firebird either racing or helping out friends and family. And through the years, he always had quite an endearment to the shoebox Chevrolet (1955-57) body style.
We first came to meet him back in the early 80's when he was racing a very potent 1955 Chevy in a class called Top Comp eliminator. Rich had that special knack for winning races including the 1983 Top Comp track championship, which was an amazing feat in its own right. Misfortune struck one evening at Firebird when he lost control of his `55 sending it thru several top end tumbles before coming to a stop. He not only survived the accident, but vowed to return to the dragstrip truly showing his perseverance and unwillingness not to throw the towel in.
In later years, Rich enjoyed competing in the NHRA divisional class of Super Stock eliminator with a hard-running 1957 Chevy two-door. He really liked the high-winding, wheels up launches provided by his 10-second SS/HA ride. In later years, Rich also enjoyed watching his son Steve compete with the Super Stocker at everything from the Club Challenge races to the Division 6 races (earlier this season back in May).
On behalf of all of us in the New family, our staff of officials, and the entire racing community, we're certainly going to miss Rich. Our condolences go out to Steve, Missy and everyone in the Scrivner family and friends.
For all that he gave, we are indebted to his dedication, loyalty and his long stand support of Firebird throughout all his years.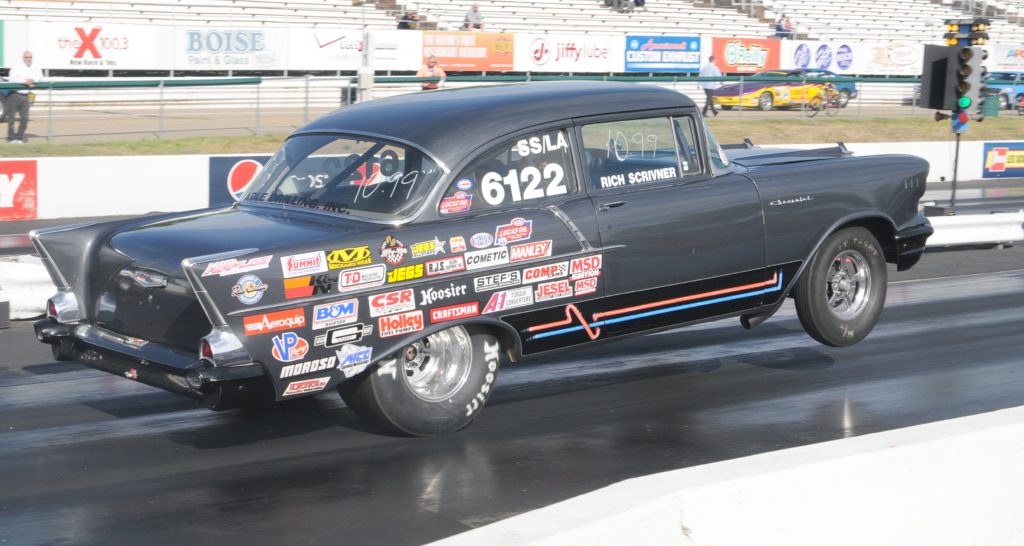 God Bless and God Speed my friend.
RICH SCRIVNER CELEBRATION OF LIFE