We lost a dear friend within the racing community, Jeffrey Langan passed away at the age of 51 on November 21, 2016.  Joined by his wife Sonja at every event he raced, Jeffrey was in all honesty an incredible person.  One would be hard pressed to find anyone more dedicated, enthusiastic and committed to the racing scene at Firebird.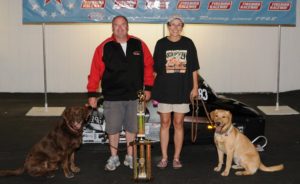 A celebration of life will take place Saturday, December 3rd, at Grace Bible Church. The gathering of friends and family will begin at 11am.
By `n large, he was a private person, but always took time to visit with fellow racers and members of the track staff. His laugh was infectious. His humor was undeniably witty. The intensity of competition was very addictive to Jeffrey. And he was good at staying calm under pressure.
A champion of champions would be a good way to describe Jeffrey. He won countless events and track championships driving his familiar hot yellow Dodge Challenger. Together, they traveled to a number of Summit E.T. Finals events, truly enjoying the fellowship of team competition and the esprit de corps that follows this long standing series.
Part of a professional commercial building company, CSDI has been keenly involved in overseeing construction projects all across America for many, many years. When approached on the idea of building the Firebird Control Tower in late 2009, Jeffrey was more than up for the challenge, he was hungry to see if in fact he could complete the design build undertaking by the first race of the season. Following just over three months of building, he made the target date with two days to spare. This was a building that should've been on a six month or greater time line and he pulled off an amazing feat with the help of many.
In more recent years, he would often volunteer his expertise on any anticipated improvement project. When we added the 200' section of concrete at mid-track, he walked us through several steps, offering advice, and even meeting with key principals looking to secure the job. He had a great deal of admiration for our entire operation and those who raced at Firebird each season. He simply wanted the best for all involved, and he worked his tail off to deliver positive input and results.
Jeffrey and Sonja loved dogs, too. There weren't many events you couldn't find the duo walking their dog or dogs around the Firebird facility. They literally know every square inch of the property from north to south, east to west, and their dogs loved chasing and teasing the whistle pigs every Spring or perhaps it was the other way around.
The two were fanatical about Boise State sports, too. From football to basketball, they attended and cheered on their beloved Bronco teams to the tenth degree. At some events, you could almost hear Jeffrey cheering over the roar of the crowd from their west side seats near the 35 yard line way over on the east side. He was that into it.
Our whole family and this includes not only our immediate family, but every member of our staff and officials, along with all those from throughout the racing community and industry…our hearts feel a great loss. Jeffrey was admired and loved by everyone who came to know him. Truthfully, he was the embodiment of pride, dignity and respect.
God speed.