Sadly, we lost a number of loyal supporters of the Firebird racing scene over the past week. It's never easy saying goodbye, especially when it is a member of your family or very close friend. We want to take a moment, sending prayers and convey our deepest condolences to a number of dear friends within our racing fraternity.
PAUL HIRT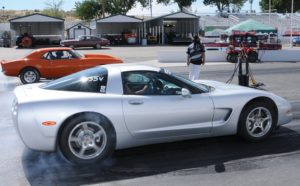 Paul, 74, passed away on October 7, 2019. He was a faithful supporter of the Valley Corvettes driving a silver late-model Vette. This Summer Paul added all kinds of new power to his ride, necessitating a cage and five-point safety belts, which he had installed mid-season. His car responded quickly, running deep into the 11-second zone at better than 123 mph. A member of the six-person Valley Vettes team, Paul participated in nearly every Club Series races for a number of years.
GARY ELLIS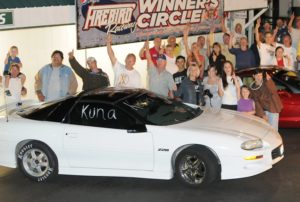 Gary, 78, passed away on October 9, 2019. He was an early member of the Kuna Knuckle Draggers (photo of Gary standing to the right of Mike Smith in celebration of their club title in 2011). Before his passing, Gary had taken the time to drop off a truck for the Kuna team in their Firebird Woodstock compound. This would be his final trip to Firebird, a place he played a role in dating back to the track's inception in 1968. Gary was also part of the ambulance/safety service provided to the raceway not too long after the track first opened over five decades ago.
DARRELL CARR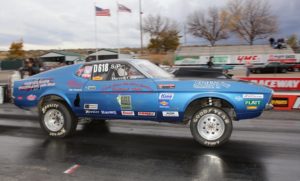 Darrell, 68, passed away on October 13, 2019. He was an avid competitor at Firebird racing a dark blue Mustang in the Super Pro class. Darrell competed at Firebird on a regular basis, qualifying and competing at a number of Team Finals races. He had an extensive background in the electrical field, always helpful when electric troubleshooting was needed in and around our track. At the same time, he was an all around good guy, someone greatly respected by countless racers and crew members at Firebird.
GARY HALL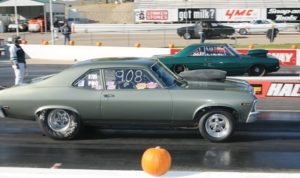 Gary passed away on October 15, 2019. The Hall family has actively raced at Firebird for many, many years. Gary was one of the most genuine, sincere and kind people you would ever cross paths with. He was employed within the railroad industry for the lion's share of his life retiring just a handful of years ago. Reflecting back, Gary always had a smile upon arriving to park at nearly all of Firebird's major (and several smaller) events. He loved taking up residency in the northern-most, valley pit area (where it was typically the most quiet), not far from the top end turnaround. He raced a silver Nova that typically ran in the low 9's.
On behalf of the New family and our entire staff we send thoughts and condolences to all of you crossed paths with Paul, Gary, Darrell and Gary. We are heartbroken in more ways than mere words can describe.
God speed.