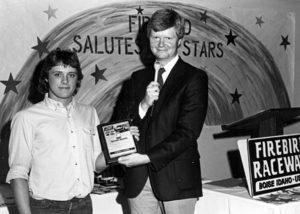 All of us in the New family were saddened to learn of the passing of Darin Cook on October 18, 2018. A drag bike competitor at Firebird for many, many years, Darin won countless events and championships. He raced at Firebird and a number of race tracks in Division 6 throughout the 80's and well into the 90's.
Having first started racing for Vallivue High School in the early to mid-80's, the Cook family, which includes his parents Bob and Linda, were major supporters of the dragstrip. They were keenly involved in the original Booster Club, raising funds to procure the track Jaws of Life rescue tools and helping to enhance the Firebird Safety Team. The entire Cook family was dedicated to helping Firebird to become a top notch facility during this era.
Darin was a competitor at the 1988 Firestone/Centerline E.T. Finals, the inaugural year the Firebird Team won the Division 6 Northwest Track Championship.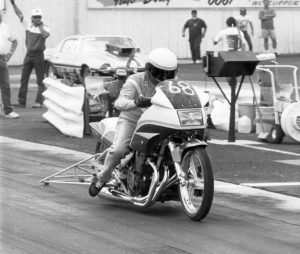 Both Bob and Linda own and operate Ace Realty and Property Management in Nampa. In more recent years you would often see the Cook family participating in events like the Boise Roadster Show at Expo Idaho and the Oldies But Goodies Drags at Firebird with their very nice street rods.
A Celebration of Life Service will be held at 2 PM on Saturday, October 27, at the Grace Bible Church, 1415 Lone Star Rd. in Nampa. Service is under the direction of the Nampa Funeral Home, Yraguen Chapel, 415 12th Ave. So., Nampa.
On behalf of all of us a Firebird, including the New family, we send our deepest sympathies and condolences to Bob and Linda Cook, family and friends. Darin will be missed.
God speed, Darin.