The Firebird team is now locked in for the 2020 Division 6 Summit E.T. Finals over the Sept. 2-6, 2020, weekend.
Here are the racers qualified and planning to race on the "Fly Like An Eagle" team over Labor Day weekend.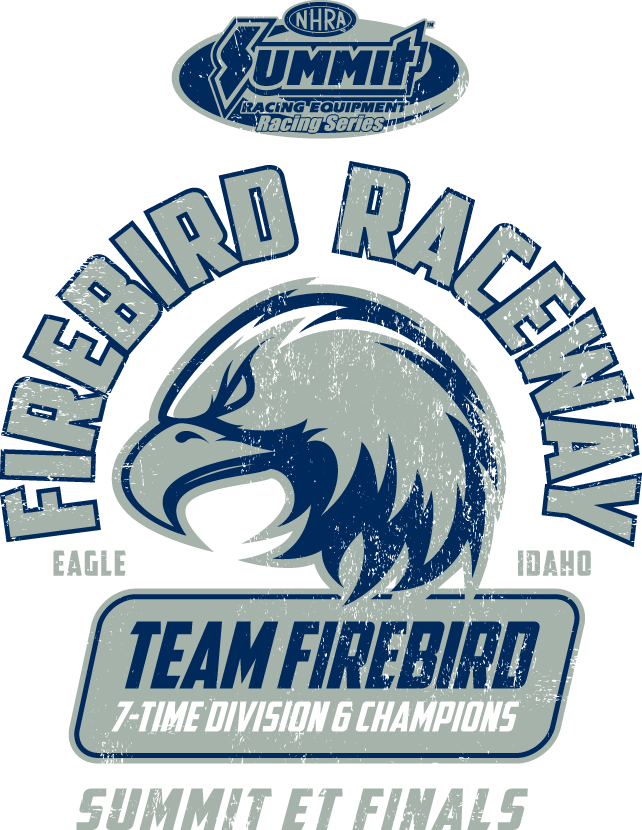 TEAM FIREBIRD
Super Pro
Todd Coltrin
John Shaffer
Aaron Marcum
Brad Todd
Seth McLean
Andy Strunk
Rayce Kidd
Tom DeBartolo
Larry Saunders
Misti Unser
Ken Windley
Stan Deming
Christopher Northup
Tom Reeb
Pro
Seth McLean
Chris Wingert
Joe Witherspoon
Richard Lally
Jeff Devey
Karisa Windley
Mick Alley
Steve Reynolds
Richard Rush
Carl Youngstrom
Jeff Bullington
Courtney Alley
Pierson Deming
Randy Standlee
Tom Bittick
Leann Day
Paige Harris
Bobby Day
Judy Radford
Sportsman
Michael Clement
Mike Ritz
Shannon Campbell
Katy Phelps
Glen Phillips
Cameron Dill
Tia Jo Spurrier
Ashley Day
Rex Peterson
Michelle Blaisure
Sled/Bike
Jacob Wood
David Wood
Craig Jensen
Roy Barrera
Paul Vaughn
Stephen Harrison
Zak Pedraza
High School
Dylan Miller
Connor New
Junior Dragster
Colten Bullington (JL)
Casey Youngstrom (JL)
Brianna Archabal (JT)
Dylanie Petersohn (JL)
Ty Sasser (JL)
Jaxson Gonzales (JT)
Cameron Stocker (JT)
Danica Archabal (JT)
Jr. Street
Gabby Halverson
Calli Deming
Captains
Tami Shaffer and Debbie Bittick
Bold – qualifiers for the Race of Champions (takes place on Saturday). All racers with perfect attendance in Super Pro (1), Pro (1) and Sportsman (1) will be in Friday's drawing for final Wildcard spot.