The New family invited a number of special guests to this year's 48th edition of the Pepsi Nightfire Nationals.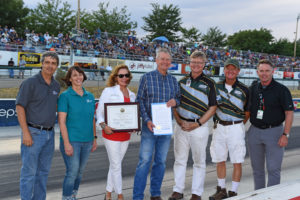 Governor Brad Little (center), NHRA president Glen Cromwell (far right) along  with dignitaries from the Idaho State Historical Society participated in a ceremony on the starting line leading up to the final session of Professional qualifying.
"This is an unbelievable event," expressed Cromwell. "I can't thank you and your entire family enough,  along with your Dad and Wally Parks, two of the greatest men in drag racing."
Firebird's Scott New introduced the Governor who delivered a  proclamation to Firebird Raceway for their preservation of drag racing history and statewide historic significance in the Gem State. Little, who resides in nearby Emmett, also revealed that he attended his first Firebird drag racing event as a teenager with his parents just over 50 years ago.
"Firebird Raceway is a major drag racing venue in the Pacific Northwest and one of the premiere dragstrip venues in the country, and has been for 50 years," stated Governor Little.  "The New Family has shown its commitment to the historic integrity of the state through outstanding stewardship.  I, Brad Little, Governor of Idaho, do hereby proclaim August 10, 2019 to be Firebird Raceway Day."
The Governor also acknowledged Firebird's recent nomination and listing in the National Register of Historic Places.
Joining Little and Cromwell (pictured) are Bill Butticci, Chairman Idaho State Historical Society Board of Trustees, Janet Gallimore, Executive Director, I.S.H.S., and Tricia Canaday, State Historical Preservation Office.
NATIONAL REGISTER OF HISTORIC PLACES NOMINATION