Pro Comp eliminator returns for the 2021 Drag Racing Season at Firebird. Open to front-motored dragsters, roadsters and altereds, Pro Comp will be a handicapped category contested off the .4-tenths Pro tree.
Big thanks to Lynn Johnston and Kenny Welch for continuing their alliance with this exciting class.
Eligible racers will compete in May at the Spring Best of Detroit, June at both the Oldies But Goodies Drags and Fox Hunt, the Nightfire in August and the final stop of five in September at the Fall Best of Detroit race. The events will feature qualifying on Saturday and eliminations on Sunday (qfy: Fri/Sat, elims: Sun at the Nightfire).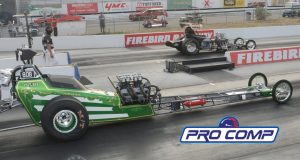 2020 Pro Comp track champion: Lynn Johnston
2019 Pro Comp track champion: Larry Saunders
* * * * * * * * * * * * * * * * * * * * * * * * * * * * * * * *
PRO COMP ELIMINATOR
Overview of Rules
Vehicles Permitted
DRAGSTER DEFINED – All Front Engine Dragster (FED).
ROADSTERS/ALTEREDS DEFINED – 1955 & earlier open top bodies with a full tube chassis. Examples include, but are not limited to "T" Roadsters/Altereds, Bantam Roadsters/Altereds, Fiat Topolino – side and center steer, etc.
Class
Thanks to a number of contributing sponsors, we are excited to offer Pro Comp at five events during the 2021 Drag Racing Season at Firebird Raceway.
The Pro Comp class will be comprised of front-motored dragsters, altereds and roadsters. The class will be staged off the .4-tenths pro tree with dial-in's and a handicapped start. NO delay boxes or throttle stops permitted. Safety rules outlined in NHRA and Heritage Series rule book based on performance (e.t./speed) of all entries.
Race day ladder is based on your best qualifying reaction time.
Courtesy staging will be in effect. Deep staging permitted (auto-start in effect).
Lane choice in eliminations will go to the quicker qualified car.
Vehicle Restrictions
Any programmable ignitions

MUST

be "zeroed" out and/or disabled.
Throttle assist devices can only be operated by the transbrake button or clutch pedal.
Permitted on Vehicle
Roots Superchargers
Centrifugal Superchargers
Turbo Chargers
Nitrous
Injected
Carbureted
No Restriction on Block or Cylinder Head Design
No Restriction on Exhaust Design
Launch Controls such as "Two Step" Rev Limiters and Air or Electric Operated Throttle Assist device. Throttle Assist devices can only be operated by Transbrake button or Clutch pedal.
No restriction on Wheelbase
Data Recorders
Pro Comp Motto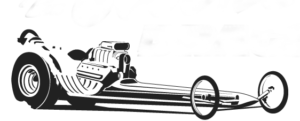 Firebird is excited to once again offer the Pro Comp class. It has been created as a fun class that brings together a unique style of racing featuring cars that pay respect to an earlier era of racing, but following all of today's safety rules and regulations. Firebird prides itself on offering a family friendly atmosphere for everyone to enjoy. Should a question or constructive input arise during an event, please consult with either Lynn Johnston or Kenny Welch.  If necessary, they will reach out to track management to resolve whatever the issue may be.
Pro Comp Eliminator – Pay Out
(7.00-10.49, two-day entry fee: $100 car/driver; three-day Nightfire entry fee: $150 car/driver)
Guaranteed Purse based on number of entries:
$500 to win, $250 runner-up, $100 semi (greater than 17 entries)
$350 to win, $175 runner-up, $50 semi (12-16 entries)
$200 to win, $100 runner-up, $50 semi (8-11 entries)
(7 or fewer entries will be Compensating Guaranteed Pro-Rated Purse)
RACER ONLINE REGISTRATION 5/14-15
---
2020 Events: Pro Comp Eliminator (4-race series) would be contested:
Sat-Sun., May 15-16, 2021 – Spring Best of Detroit (qlfy. Sat, elims. Sun)
Sat-Sun., June 5-6, 2021 – 41st Oldies But Goodies Drags (qlfy. Sat, elims. Sun)
Fri-Sat., June 18-19, 2021 – 43rd Fox Hunt (qlfy. Fri., elims. Sat)
Fri-Sun., Aug. 6-8, 2021 – 50th Nightfire Nationals (qlfy. Fri-Sat. elims. on Sun)
Sat-Sun., Sept. 25-26, 2021 – 22nd Fall Best of Detroit (qlfy. Sat., elims. Sun)
Year-End Championship:
Points will be tallied throughout the series (following current Gold Cup entry/round win system. 16 points to enter and 10 points per round won). Top three drivers will earn awards at year-end. Overall Series champion will receive an embroidered Firebird jacket and award plaque.
Pit Parking
Parking is available on a first-arrival basis. At the four two-day events, we will strive to park teams together or within close proximity of each other.
Driver's Meeting
Prior to the start of eliminations, Kenny and Lynn plan to host a driver's get together at a designated Pro Comp pit area. The ladder will be available and questions will be answered at this time.
Finally
We appreciated all the support of the teams who participated in the first two seasons of Pro Comp. We are all looking forward to continuing to host this emerging class again in 2021.