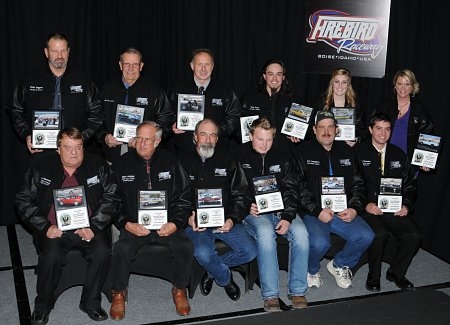 CHAMPIONS RECOGNIZED AT FIREBIRD BANQUET, TYLER RUSH EARNS BRACKET RACER OF THE YEAR
The 47th edition of the Firebird Award's Banquet officially brought the 2014 NHRA Drag Racing Season to a close on Saturday night, November 22nd. Held in the Ballroom of The Riverside Hotel in Boise, the Banquet featured an evening packed with awards, which included upwards of $15,000 in cash and prizes. Post Banquet festivities went till the wee hours of the morning as many gathered in the Aspen room after the conclusion of the awards program for music, socializing, dancing and cocktails.
The festive night included all the presentations in the Boise Muffler Gold Cup Championships. All of the top finishers in the Boise Muffler Gold Cup Series were recognized, along with United Dairymen of Idaho High School & Alumni Championships, Junior program, Lyle Pearson Acura Sport Compact Series, Carl's Cycle Sales Street Bike, Fairly Reliable Bob's Club Championships, and other points chases during the evening.
Voted on by his piers, Tyler Rush was awarded Bracket Racer of the Year. Rush also won his second consecutive Sportsman Track Championship. Sweeping honors for "Lady Driver of the Year" was Casey Compton.
2014 Boise Muffler Gold Cup Championship Series
Super Pro: Chris Jaggers, Middleton
Pro: Bruce Compton, Boise
Sportsman: Tyler Rush, Boise
Sled/Bike: Craig Jensen, Chubbuck
Junior Dragster: Casey Compton, Boise
High School Teams: Middleton High (AAA) and Renaissance High (AA)
High School – Individual: Jeff Fetty, Middleton High
Alumni: Richard Rush, Boise
Sport Compact: Perry Hammons, Caldwell
Street Bike: David Kletzien, Boise
Outlaw Street: Ryan Resinkin, Emmett
Street Truck: Kristi Shawver, Meridian
Nostalgia: Carl Youngstrom, Caldwell
Super Shifter: Glen Phillips, Middleton
Club Champions: Melba Outlaws (Silver Cup), Flying Brick (Bronze Cup), and Venom Racing (Copper Cup)
2014 Year-end special awards
Rising Star—Chandler Steen, Idaho Falls
Top Rookie—Chad Hofert, Meridian
Best Appearing Race Car—Sean Shaffer, Boise
Outstanding Perseverance—Rex Petersen. Boise
Good "Guy" 2014-Lonnie Jesser, Meridian
Outstanding Crew—Radford Racing, Baker City, Ore.
Most Improved Driver—Dan Wilder, Caldwell
Team Member of the Year—Bryan Smith, Boise
Lady Driver of the Year—Casey Compton. Boise
Bracket Racer of the Year—Tyler Rush, Kuna
Racemaster—Stan Keller, Boise