Firebird's "signature event", the 51st Annual Nightfire Nationals presented Bi-Mart returns Friday-Sunday, August 5-7.
Capture your TICKETS (link) today.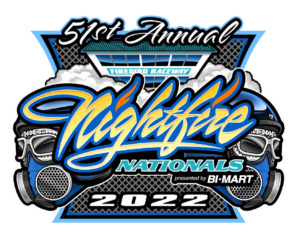 The race marks a key stop in the NHRA Hot Rod Heritage Series for both AA/Funny Car and AA/Fuel Dragster. Leading the charge in Funny Car will be the Ignitor winning Camaro of driver Bobby Cottrell and the Austin & O'Brien "Northwest Hitter" Camaro.
In Top Fuel, Tyler Hilton will be headed to Firebird from his home in Ohio, the current point's leader after NHRA Reunion in Bowling Green, Kentucky.
The fan favorite AA/Fuel Altereds will be battle it out at the Nightfire, too. The field will be led by quite an ensemble of race teams, including the former Nightfire AA/FA winner Tom Padilla.
The event will also showcase the spectacular wheelstanding Jelly Belly Stagecoach of Ed "the Outlaw" Jones.
Fire blasting Jet Cars, both "Tomahawk" and the "Ice Man", will help light up the skyline under the lights on Friday-Sunday, too.
The famed Bracketeer Series returns with a record guarantee cash purse on the line over all three days and nights. The event is open to all racers, including categories for: Bracketeer (Super Pro), Pro, Sled/Bike, Pro Comp and Heavy, along with the popular Lucas Oil Top Fire eliminator. Top Fire will qualify the quickest 16 open wheelers and the quickest 16 full-bodied rides, with an overall champion crowned during Sunday's Prime Time Finals.
This year's Nightfire will pay a guaranteed winner's prize of $10,000 to win on each of the three nights in Bracketeer (Super Pro).
Racers will also compete in the NHRA.TV CHALLENGE three-day point's series, with the overall champions taking home a coveted Wally statues.