We will be celebrating Firebird's 50th year at what will be a very historic Pepsi Nightfire Nationals. The track's "signature event" returns on Thursday-Sunday, August 10-13, 2017.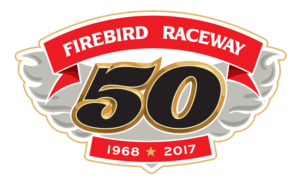 The race marks a key stop in the NHRA Hot Rod Heritage Series for both AA/Funny Car and AA/Fuel Dragster. Both #1 ranked teams are pre-entered. Ryan Hodgson from Edmonton is #1 in Funny Car after blitzing both ends of the Firebird track record in May. And Jim Murphy sits atop the standings in Top Fuel after scoring an impressive win at the NHRA Reunion in Bowling Green, Kent.
The fan favorite AA/Fuel Altereds will compete in their own nitro eliminator on Friday thru Sunday, too. We are excited about the father-son team of Mike and Jeremy Sullivan returning in defense of the 2015-16 Nightfire titles.
The event will also showcase the wheelstanding Jelly Belly Stagecoach of Ed "the Outlaw" Jones. Four Jets will also perform nightly. Two Jet Dragsters (Terminal Velocity and the Lucas Oil Missle) and two Jet Funny Cars (Warped Speed and Warhawk) will help light up the skyline under the lights on Friday-Sunday.
All pre-entry brochures have mailed for the richest weekend of sportsman racing in the Northwest. The famed Bracketeer Series returns with a whopping $80,000 in guaranteed cash on the line. The event is open to all racers, including categories for: Bracketeer (Super Pro), Pro, Sled/Bike, and Heavy, along with the popular Lucas Oil Top Fire eliminator presented by CMYK Grafix (for the quickest 16 open wheelers and the quickest 16 full-bodied rides).
This year's Nightfire will pay a guaranteed winner's prize of $5,000 to win on Thursday, Friday, and Sunday in Bracketeer (Super Pro). Saturday will up the ante,  paying a whopping $7,500 to the champion of the Bracketeer main event.
In Pro eliminator, the champions will pocket $2,000 to win on Thursday, Friday and Sunday. On Saturday, the victor will bankroll a cool $3000 in winnings.
Racers will also vie for bonus money and NHRA Wally trophies in the Meridian Automotive & Machine four-day point's series. The All Access Challenge (formerly National Dragster Challenge) co-sponsors the point's chase.
BRACKETEER PRE-ENTRY APPLICATION