The Funny Car, Top Fuel and Pro Modified champions were crowned at the NHRA Hot Rod Reunion on Saturday, October 21, 2017.
Unseasonably wet weather postponed the Nightfire final rounds until the last race of the season in the Hot Rod Heritage Series at Auto Club Famoso Raceway.
AA/Funny Car Nightfire Final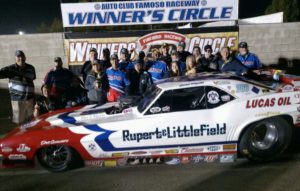 In Funny Car, it was a titanic battle between the #1 and #2 ranked cars on the 2017 tour. Ryan Hodgson met up with Jason Rupert for Nightfire supremacy. Rupert would prevail at 5.65-248.53 to hold off the charge of Hodgson who finished at 5.70-255.00. For Rupert the victory was bittersweet. The Nightfire win was very significant considering it took two complete race weekends to complete the championship title before earning the NHRA Wally trophy. Unfortunately the engine incurred damage on his third and final run to qualify for the Reunion. Oil was deposited  on the track (needing cleaned by track equipment, which is an automatic DQ) and kept the team from qualifying in one of the quickest 16-car fields ever. The Rupert & Littlefield team came up victorious in earning the Boise title, but their chase for the Heritage Series championship was over. Congratulations to the entire Hodgson and Papernick team – they earned a hard fought Nitro Funny Car national championship. We tip our hats to the veteran operation based out of Edmonton.
AA/Fuel Dragster Nightfire Final
Jim Murphy proved to be the man to beat at Famoso in the late day Top Fuel Nightfire final. Racing the "Champion Speed Shop" Dragster driven by Adam Sorokin, Murphy flew to a 5.65-second blast at 249 mph to stop Sorokin's  game 5.74 at 243 mph. Congratulations to Murphy, crew chief Roland Leong and the seasoned "WW2" Top Fuel team based out of Santa Rosa, Calif. We greatly admire the efforts of Murphy and company especially after the devastating consequences of the major fires that stormed through their community in recent weeks.  Jim Murphy is a class act. All of us in the New Crew are proud to have him earn his second Nightfire title.
Xtreme Pro Mods West Nightfire Final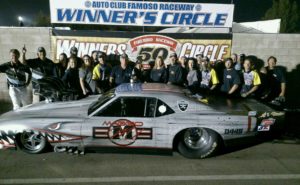 In a "blown" versus "turbo" Pro Mod title bout, Mike Maggio squared off with Ed Thornton Jr. Competing in the Xtreme Pro Mod West point's race in Bakersfield, Maggio flew to a 5.73-259.86 to beat a 5.81-262 mph by the turbo Camaro of Thornton Jr. For Maggio, it would be his second Nightfire title.  After glancing off the top end retaining wall during Nightfire qualifying, it was certainly a well-earned and deserved victory. Congratulations to Mike and his entire crew. It might've taken two separate weekends to make it all happen, but you are "King of the Pro Mods" from this year's Nightfire and our Firebird's 50th Year of Racing!!!
Special thanks to the staff at the NHRA Wally Parks Motorsports Museum (including Larry, Greg, Rose, Eric and all others) for their hospitality extended to all of us involved with Firebird.  Not only did they provide us an opportunity to set-up a Firebird 50th display, but green-lighted our Nightfire final rounds to be staged on Saturday afternoon of the Reunion. Thanks again for all you do for our sport in preserving the rich history our sport has to offer.
Staging lane photo of the two Pro Mod finalist patiently waiting out the August rain showers Sunday late afternoon taken by Dyan Lover.