It's almost time for the Classic to return to Firebird!
We're having a difficult time containing our excitement for the NAPA Auto Parts Halloween Classic XXIX presented by Mirage Trailers. The multi-day boo bash will be here before we know it, Wednesday thru Sunday, October 5-9.
Categories for the Classic main event include: Super Pro, Pro, Heavy and Sportsman. All four overall champions will earn Idaho State Championship Wally awards. Sled/Bike riders will also compete for an Idaho State title (which includes a coveted Wally award, too).
Junior Dragster competitors will run in age divisions on Saturday and Lightning and Thunder competing for NHRA Junior Wally trophies on Sunday.
The Lucas Oil Top Gun Shootout returns for the 16 quickest full-bodied cars, which will split the competition ladder with the 16 quickest open-wheeled rides. Billed as the "War to Settle the Score", we look forward to this special race-within-a-race at the Classic.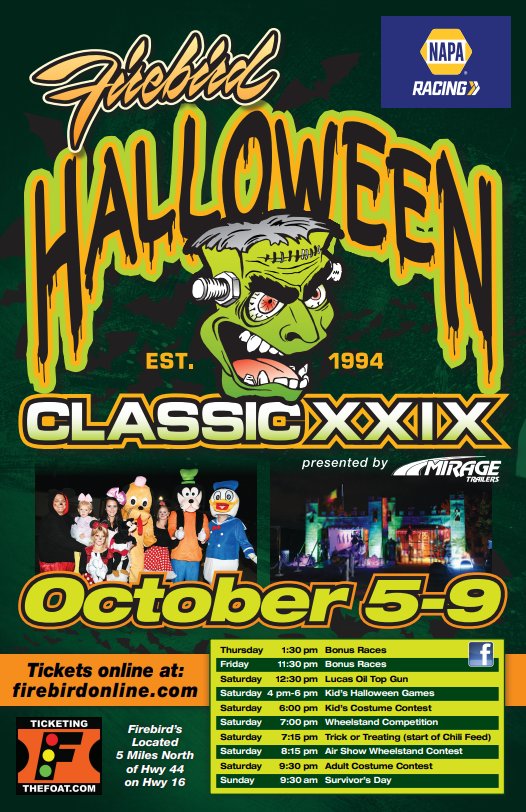 Opening up the five-day event, racers who have competed in the six-race Club Challenge Series this season will get an opportunity to run in the Club Grand Championships. The Sweet 16 (Silver Cup teams) and Dirty Dozen (for the Bronze and Copper clubs) will compete head-to-head before each individual winner moves into the "Race for the Trailer" presented by Quality Trailer Sales. All qualifiers for the Club runoffs are required to have run a minimum of two Club races this season.
A multitude of special bonus races will be offered on both Thursday and Friday, including Super Roller, No Box/Hi-Roller, No Box/Gambler and Sled/Bike Gambler.
Kid's games and activities will overtake the raceway pit area on Saturday afternoon and evening. Kid's games, kid's coloring contest, kid's costume contest, kid's trick or treating and more.
If you haven't got your costume or pit decorations planned out, you'd better start getting the ball rollin'. We're tossin' the challenge out to any and all race teams – here's your chance to blow everyone away on Sat., the 8th with the wildest, most creative, totally over-the-top costume or pit decoration. Come on, let's get creative!
If there is one event not to miss this season it is CLASSIC #29!
Additionally, all pre-entered teams who plan to park and begin their camp-out at the raceway on Tuesday are welcome to participate in the 7th Annual Corn Hole competition (which will feature a limited field – two people per team) – sign ups will be at the Sport Shop. Corn Hole will be staged in the staging lanes Tuesday evening, Oct. 5th, starting at 6 pm. Please bring your Corn Hole boards and bean bags if you have a pair of boards so multiple teams can play at one-time.
There's more in store for all who attend, so if we could recommend one thing…tell your friends, your neighbors, people at work or anyone else for that matter, there's only one place to be Oct. 5, 6, 7, 8 & 9.
If we could recommend one tip, be sure and stop by the souvenir Sport Shop early in the event. This year's shirts feature one of the coolest designs to date. The award winning artist Dave Boeldt knocked this year's Classic XXIX design out of the ballpark. Based on past years, we wouldn't doubt if this year's shirts sell out pretty quickly.
On behalf of all of us in the New family and our staff, we look forward to seeing everyone this weekend!