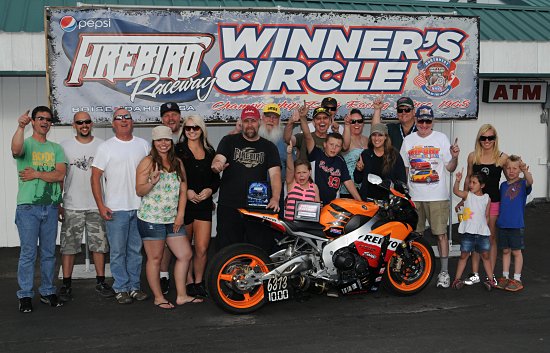 SHAFFER, PYBURN, BURLILE & GRONDAHL WIN SECOND DAY OF STINKER SEASON OPENER
Beautiful sun-filled skies greeted racers for the second day of the Double Header Season Opener presented by Stinker Stores on May 5th.
Gold Cup winners included Sean Shaffer in Super Pro, Steve Pyburn in Pro, Levi Burlile in Sportsman, Scott Grondahl in Sled/Bike and John Burke Jr., in Junior Dragster. All five winners will climb into a leading position in the Division 6 Land of the Leaders Challenge (the first of four such events).
Results from the Stinker Stores Season Opener at Firebird
Super Pro
Sean Shaffer, Paul, 9.97, 122.54 def. Larry Saunders, Fruitland, 8.53, 155.44.
Pro
Steve Pyburn, Nampa, 9.97, 134.75 def. Randy Williamson, Boise, 11.13, 95.03.
Sportsman
Levi Burlile, Nampa, 12.51, 106.50 def. Derryl Winters, Nampa, 14.04, 97.07.
Sled/Bike
Scott Grondahl, Nampa, 10.21, 126.88 def. Craig Jensen, Chubbuck, 9.79, 127.55.
Super Shifter
Carl Youngstrom, Caldwell, 13.90, 92.90 def. Glen Phillips, Middleton, 12.75, 107.10.
Nostalgia
Jeffrey Langan, Boise, 11.57, 113.90 def. Greg Buckert, Star, 10.80, 114.92.
Junior Dragster
John Burke Jr., Bates, Ore., 8.23, 78.38 def. Chandler Steen, Idaho Falls, 9.05, 70.75.
Outlaw Street
Sharlene Lancaster, Payette, 11.65, 113.98 def. Carl Youngstrom, Caldwell, 12.46, 107.23.
Street Bike
David Kletzien, Boise, 9.48, 137.46 def. Scott Grondahl, Nampa, 10.16, 133.15.
Street Truck
Ashton Davis, Middleton 18.23, 75.20 def. Gina Luckow, Eagle, 14.08, 94.70.