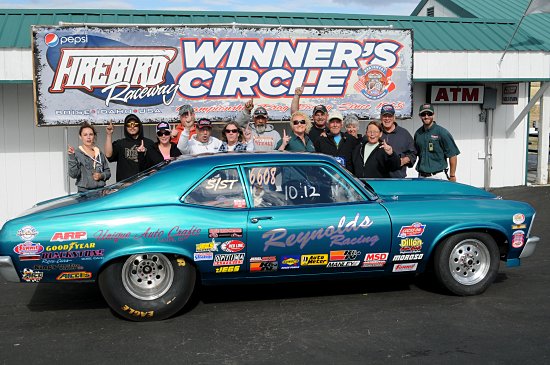 FIVE DIFFERENT NAMPA RACERS WIN TITLES AT HOT TRUCK/GOLD CUP EVENT
Racers from Canyon county found success on one of the windiest days of the season. With sustained headwinds topping 15 and pressing higher than 25 mph throughout the day, it added a whole different twist to the partly cloudy conditions for the fourth stop in the season-long Boise Muffler Gold Cup racing series.
Staged in conjunction with the Bronco Motors Hot Truck Nationals, a wide variety of winners conquered the cool and partly cloudy day. Hands down, those securing the most success were from the city of Nampa. In fact, five different racers from Nampa (out of nine total eliminators) reached the Pepsi Winner's Circle. Even more amazing, the finals of Super Pro, Pro and Sportsman were all decided by .00-thousandths of a second. The margin of victory for Steve Reynolds in Super Pro was .008; in Pro, Steve Pyburn won by .009; and in Sportsman, Lynde Fischer earned the victory by just .009 of a second. All three racers (along with Jim Coryat and Andres Chavez) were from Nampa.
Kidd Performance & Dyno Super Pro
Steve Reynolds, .049, 10.15 (10.13 dial) 129.45 def. Gordon Boven, .038,9.69 (9.64 dial) 125.26.
Semi-Cody Hiatt; Sean Shaffer.
Quarter-Christopher Northup; Camille Shaffer; Richard Williams; Mike Osmus.
PSI Pro
Steve Pyburn, .034, 9.91 (9.93 dial) 130.81 def. Jim Coryat, .025, 10.96 (10.99 dial) 120.69.
Semi-Chad Campbell.
Quarter-Jim Dillon; Brent Borchers.
United Oil Sportsman
Lynde Fischer, .058, 12.79 (12.80 dial) 103.97 def. David Meimann, .024, 14.36 (14.38 dial) 96.64.
Semi-Stephanie Meimann; Steve Shideler.
Quarter-Lucas Hull; Margaret Smith; Catherine Seamons; Steve Rogers.
Woody's Outdoor Power Sled/Bike
Craig Jensen, .031, 9.74 (9.80 dial) 130.24 def. Richie Pedraza, -.015 foul, 10.14 (10.13 dial) 122.33.
Semi-Scott Grondahl.
Quarter-Rich Pedraza; Zak Pedraza.
Capitol City Transmission Nostalgia
Duston Wurtz, .092, 12.03 (12.04 dial) 108.42 def. Linda Rowland, -.030 foul, 11.60 (11.61 dial) 115.20.
Semi-Jeffrey Langan; Carl Youngstrom.
Quarter-Jerry Trolard; Ryan Resinkin; Doug Wikfors; Bill Muchow.
Pro Truck
Jim Coryat, .036, 11.00 (10.96 dial) 119.82 def. Steve Landrum, -.068 foul, 33.91 (11.89 dial) 16.20.
Semi-Gary Kruger.
Quarter-Greg Sabatino; Todd Porter; Ryan Resinkin.
Street Truck
Ashton Davis, .090, 18.19 (18.20 dial) 74.80 def. Richard Rush, -.003 foul, 13.34 (13.50 dial) 98.00.
Semi-Alan Clarke; Jon Bennett.
Quarter-Dean Hamann, Kyle LePire; Gina Luckow; Maggie Watts.
Trophy
Steve Landrum, .049, 11.91 (11.82 dial) 111.09 def. Fuzzy Sterling, .120, 13.05 (13.00 dial) 100.28.
Semi-Bonda Evans.
Quarter-Timothy Jones; Terry Stewart.
Junior Dragster
Andres Chavez, .078, 9.41, 67.24 def. Michael Jaggers, .188, 8.64 (8.63 dial) 72.53.Semi-Paul Sheridan; Casey Compton.
Quarter-Jacob Geier; John Burke Jr.; Wes Morris; Rion Coates.