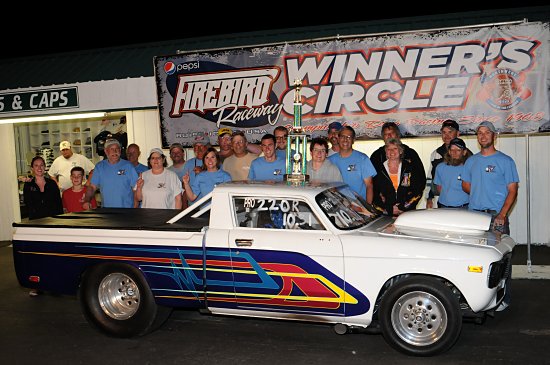 BETTER LATE THAN NEVER – FIRST STOP IN FAIRLY RELIABLE BOB'S CLUB CHALLENGE SERIES KICKS INTO HIGH GEAR
Mother nature won the day at the first attempt at staging the Fairly Reliable Bob's Club Challenge Series. Nearly an inch of rain fell on Firebird during the opening event, which required rescheduling until Friday, May 10th. Fortunately enough, positively gorgeous weather greeted a good-sized turnout of participants as temperatures climbed into the mid-80's for the opening night race of the season.
Congratulations to each of the champions: Mike Osich, Glen Phillips, Kristi Shawver, Susan Wikfors, and Grant Middleton. In the team competition, the Melba Outlaws in the Silver Cup; Flying Brick in the Bronze Cup; and the Barons in the Copper Cup lead their respective divisions.
Club Bracket #1
Mike Osich, Down `n Dirty, .024, 10.29 (10.31 dial) 129.70 mph def. Terry Phillips, DT Embroidery, -.032 foul, 10.76 (10.79 dial) 124.06.
Semi-Steve Pyburn, Melba Outlaws; Rick Sayers, Melba Outlaws.
Quarters-Rick Sayers Jr., Melba Outlaws; Jerry Forrey, Kuna Kunckle Draggers; Randy Williamson, Melba Outlaws.
Club Bracket #2
Glen Phillips, PSI Racing, .012, 12.68 (12.67 dial) 108.23 def. Ed Wong, Valley Vettes, .055, 12.73 (12.76 dial) 110.40.
Semi-Mike McNamara, Melba Outlaws.
Quarters-Marcia Randall, Naughty Girls; Sharlene Lancaster, Melba Outlaws.
Club Bracket #3
Kristi Shawver, Down `n Dirty, .032, 12.88 (12.90 dial) 98.19 def. Lynn Johnston, Melba Outlaws, .028, 16.13 (16.19 dial) 85.10.
Semi-Shayne Schaefer, Notorious Hot Shots; Larry Shideler, Valley Corvettes.
Quarters-Eldon Twitty, Down `n Dirty; Derryl Winters, Down `n Dirty; Darren Hoskins, Down `n Dirty.
Club Bracket #4
Susan Wikfors, PSI Racing, .087, 13.27 (13.27 dial) 100.79 def. Steven Marsala, The Barons, .165, 14.35 (14.30 dial) 97.25.
Semi-Rich Moore, PSI Racing; Jeff Thatcher, PSI Racing.
Quarters-Neil Ramey, Guardians, Fuzzy Sterling, Door Slammers; Mike Huetson, Down `n Dirty.
Club Bracket #5
Grant Middleton, PSI Racing, .127, 16.63 (16.52 dial) 72.31 def. Robert Smith, Down `n Dirty, .274, 16.52 (16.56 dial) 85.40.
Semi-Angela Cirelli, Flying Brick.
Quarter-Mike Colson, Custom Racing; Jan Shawver, Down `n Dirty.