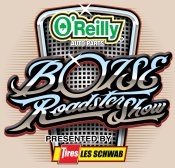 Kenny Welch's Great Eight '37 Ford Captures Boise Roadster Show Goldmark Title
Kenny Welch, who calls Idaho's capital city of Boise home, earned top honors at the 44th edition of the O'Reilly Auto Parts Boise Roadster Show. The ISCA Summit racing equipment show car series event took place in the three-building expo Idaho complex staged on the grounds of the Western Idaho Fair. Presented by Les Schwab, the three-day event attracted an outstanding field of exhibitors from eight states.
The remarkable 1937 ford coupe of Kenny Welch, just home with a great eight finish in the Ridler competition at the Detroit Autorama, won the coveted Goldmark award in his own backyard. Welch is only the third Idaho builder to win the crown jewel "eagle" trophy, which was first awarded to Texan Jim Thayer back in 1989.
Mel Eggleston, Boise, was selected as the 35th recipient of the esteemed Master-Builder award. Mel first entered the roadster show with a 1940 Ford coupe and won the Best Custom award in 1975. He has consistently been involved with the treasure valley event for over forty years including his nice 1932 Ford five-window coupe in this year's show.
The overall best club display was earned by the Idaho British car club with a four-car display that involved British memorabilia.
A number of exhibitors were in contention for the people's choice award, which is voted on with all the gate tickets of the fans. This year's winner was the impressive "T-Rex" 1969 Camaro shown by Jay and Ryan Gruba with G3 Rods from Rapid City, South Dakota.
Our appreciation is extended to this year's ISCA judging staff headed up by supervisor Scott Hammon. He was joined by his Greg Warg, Devin Ellis, Dan Young and Rod Detterich.
44th annual O'Reilly Auto Parts Boise Roadster Show presented by Les Schwab Tires
Summit Racing Equipment Show Car Series ISCA event
Expo Idaho
Goldmark Award, Best Rod – Kenny Welch, Boise, ID, 1937 Ford coupe
The Wild One – Flip Cooper, Rapid City, SD, 1955 Chevy Bel Air
Fire Rod – Jack Crawford, Yakima, WA, 1934 Ford coupe
Trendsetter – Dan Mcdonald, Langley, BC, 1967 Pontiac Acadian
Master Builder – Mel Eggleston, Boise, ID, 1932 Ford coupe
Mighty Fine, Best Custom – Gil Losi, Murrieta, CA, 1956 Plymouth Belvedere Conv
Essence Of Cool – Shawn Phelps, Boise, ID, 1936 Plymouth coupe
Jack's Pick – Bill Beckes, Eagle, 1946 Ford sedan
Tompkins Award – Tim Kerrigan, Sonoma, CA, 1956 Ford truck
Best Comp/Street Machine – Clayton Graham, Rapid City, SD, 1969 Chevy Camaro
Best Restored – Rob Titus, Jefferson, OR, 1966 Chevy II Nova SS
Best Truck – Steve Novelli, Heber City, UT, 1957 Chevy pickup
Best Bike – Martin Burnette, Spokane, WA, 1999 Yamaha V Star
People's Choice – Clayton Graham, Rapid City, Sd, 1969 Chevy Camaro
Best Club Display – Idaho British Car Club