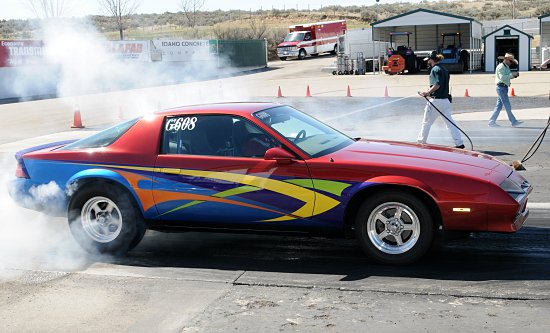 TEST `N TUNE HELPS JUMPSTART FIREBIRD'S 2013 RACING CALENDAR
A strong turnout of racers took advantage of the first chance to go racing since last season came to a conclusion in late October. Nearly perfect weather helped make the day even more enjoyable. Temperatures climbed into the low 70's under bright blue, sun-filled skies.
The first Test Day is the first of two testing opportunities (next up: this Sunday, April 7th) before the American Classified Spring Warm Up and Swap Meet on Saturday, April 13th.
Significant amongst an abundance of time runs was the day's quickest performer—Cody Hiatt, the former Super Pro track champion in the Boise Muffler Series. Driving his Boise Refrigeration Service-backed Dragster, Hiatt nailed down the top run of the day, tearing off a 7.36-182.37.
Randy Williamson started off his season on positive footing, running in the 9.30's and 9.40's with his familiar green Vega (actually a best of 9.37-142.56). Former Division champ Christopher Northup ran strong, too, busting out a couple of low 8.70 passes followed by an 8.67 with his Super Pro dragster.
Other noteworthy runs included the Emmett-based Nova of Andy Strunk who hammered out a run of 10.38-127.87; past Junior Dragster track champ Alex Steen found himself in new territory, driving the historic Stan Soran Chevy II (which dipped into the 11's); Sue Reynolds debuted her new Pro bracket Camaro, dipping into the 11's with a very swift (new) motor combination (pictured above); Larry Lamberson looked quite strong, running 9.89 and 9.91 with is dark maroon Camaro; Melanie Higgins made a solid effort, posting an 11.49 with her colorful Chevy II; and a vast array of other participants who made a variety of laps.
The bikes and sleds were out in force, too. Former track champion Dave Allen debuted his new bike, nailing down a best of 9-flat, and a speed of 151.10 mph. Gerard Stanberry sure looked very sharp, too, charging to a 9.41, 9.42 and 9.42 on his final three attempts. In addition, Bob D'Anna knocked out his NHRA competition license with his cool red two-wheeler.
A nice assortment of Junior Dragster teams were out preparing for their opening point's stop in one week. Several new colorful paint schemes really added to the flair and flavor of the class. Additionally, Chandler Steen hit the first perfect light of the season, drilling a .000 on his third run of the day.
The day's only hard luck story belonged to Ashton Davis. On one of his runs the steering assembly came disconnected mid-way through his quarter-mile run. Fortunately enough, he was able to coax it to a stop and have it towed back to the pits via the rollback wrecker. The good news: he got it fixed and returned to make a few more passes before day's end.
In celebration of Easter, the day attracted the Easter Bunny, Jesus, aka: Weston Nichols working the burnout box, and a Easter Egg Hunt for the younger generation in attendance.
There were many, many others making a multitude of runs during the late morning/afternoon of action. We just want to say thanks to all who attended our opening day of practice.
Next up: more Testing on Sunday, April 7th. We'll see you there!