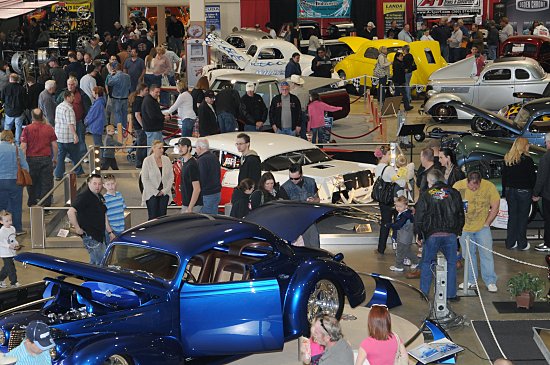 HALO CHEVY COUPE SWEEPS GOLDMARK TITLE AT ROADSTER SHOW
Jerry Kjensrud from Sherwood, Ore., collected sweepstakes honors with his 1939 Chevrolet coupe called "Halo" during the 41st edition of the O'Reilly Auto Parts Boise Roadster Show, which culminated on Sunday evening at Expo Idaho. Presented by Les Schwab, the four-day Summit ISCA Championship event attracted an outstanding field of exhibitors from eight states.
A six-year undertaking, the remarkable coupe of Kjensrud scored the event's top prize known as the Goldmark award, in addition to the overall Best Rod title. In the weeks leading up to theBoise tour stop, Kjensrud also collected Best Rod titles at shows in Pomona and Sacramento, Calif.
Tim Wallace from Meridian was selected for the 32nd Master-Builder honoree. Wallace has been participating at the Roadster Show for better than three decades. At this year's show, Wallace unveiled a Pro Modified 1955 Chevy race car, which won the Best Comp title.
For an amazing five consecutive years, the No Limit Classic club won the Best Club Display award. The Willys club and Treasure Valley Mustang & Ford club took second and third, respectively.
2013 Award Results
41st Annual O'Reilly Boise Roadster Show presented by Les Schwab Tires
ISCA Championship point's event
Expo Idaho
Goldmark Award, Best Rod – Jerry Kjensrud, Sherwood, Ore., `39 Chevy coupe
The Wild One– Tim Tarris, Tucson, Ariz., `32 Ford Phaeton
Fire Rod – John Reese, Sandy, Utah, `333 Ford Roadster
Trendsetter– Dave Kindig/John Walker, Salt Lake City, Utah, `65 Ford Galaxie
Master Builder, Best Comp – Tim Wallace, Meridian, `55 Chevy
Mighty Fine – Tim Loughrey/Gary Matranga, Rio Linda, Calif., `39 Ford Delivery
Essence of Cool – Jim Lindsay, Shedd, Ore., `61 Dragster
Tompkins Award – Vic Asqueta, Nampa, `57 Chevy
Best Custom – Dan Coleman, Arvada, Colo., `56 Ford
Best Restored – Tom Evans/Tim Bakman, Boise, `73 Trans Am
Best Truck – Dan Graham, Maple Falls, Wash., `50 Ford pickup
People's Choice – Scott Peterson, Clackamas, Ore., `67 Camaro
Best Club Display – No Limit Classics