We have had a number of inquires on the NHRA Jr. Street program. Targeted at 13-16 year old teenage boys and girls, Jr. Street provides them an opportunity to race against their peers. Jr. Street is open to full-bodied street vehicles with an adult co-driver as their co-passenger that combines racing and car safety.
Competitors in the NHRA Jr. Street program will go through an orie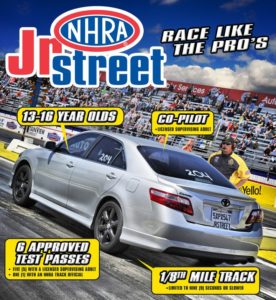 ntation/licensing procedure. Racing takes place on an eighth-mile dragstrip distance. Approved vehicles must be registered and insured. Mufflers and street tires required on street-legal vehicles. Racing distance is an eighth-mile (9 seconds and slower). Program requirements are detailed below.
Click below to learn more information about Jr. Street. A link is provided for the required NHRA paperwork (licensing and insurance) necessary for racing. A one-year NHRA membership is $30 (2 years – $60).
NHRA Jr Street dates this season: April 30 (licensing/test), May 13 (licensing/test), June 23 (licensing/eliminator), July 29 (licensing/eliminator), Sept. 16 (licensing/eliminator), Oct. 7 (licensing/testing).
Class Overview Information
NHRA Licensing and Insurance Forms