SUMMIT E.T. FINALS WILL BE HOSTED IN SPOKANE OVER LABOR DAY WEEKEND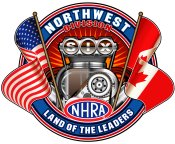 Following the NHRA Northwest Division Meetings in Seattle, the host site for the 36th Annual Division 6 Summit E.T. Finals was confirmed and Spokane County Raceway in Airway Heights, Wash. (outside of Spokane), will be the next stop in the rotating series for the Team Finals on Aug. 29-31, Sept. 1, 2013.
This will mark the first time in the three and a half decade history of the E.T. Finals that Spokane will host the event, a region that is often recognized as the Inland Empire.
Plans are already going together to take 58 racers to Spokane. All together, 50 racers will earn spots from within the Boise Muffler Gold Cup chase in Super Pro, Pro, Sportsman and Sled/Bike. Six additional racers will qualify from the Junior Dragster program and two will earn positions from the High School Series, to make-up a full 58-member team.
Out of the mix will come those who qualify for the Race of Champions event on Saturday, which will once again see the top six racers in Super Pro, Pro, Sportsman and Sled/Bike compete within the very special "race within a race". The four overall winners will earn trips to the Summit national championship held in conjunction with the NHRA World Finals in Pomona in November.
The new 2013 NHRA Rule Books are now available. We will have them in the Firebird booth at the Boise Roadster Show in March.
SIX PEOPLE INDUCTED INTO DIVISION 6 HALL OF FAME
Seattle, Washington…The 2012 NHRA Division 6 Award's Banquet took place at the Seattle Airport Marriott on Saturday evening, January 12th. Champions were crown in the Lucas Oil Drag Race Series, Summit Series, and an assortment of other programs. In addition, six people were recognized into the Division 6 Hall of Fame. The recipients included Jack Shannon, Steve Denbo, Hank Johnson, Frank Hall, Jess Jones, and Dave Weiss.
Shannon was the Division 6 Director from 1969 to 1977; Denbo was a racer and past NHRA Certification team member, track announcer and former P.I.R. manager; Johnson was a former Top Fuel, Funny Car and BB/Funny Car competitor; Hall was a former Funny Car driver and Division 6 Director; Jones was a crew chief for Hank Johnson; and Weiss was a 60's-era Top Fuel standout.
Recognized for their dedication to event coverage and photography, the Firebird facility was acknowledged for the National Dragster Media Award presented on behalf of NHRA newspaper editor Phil Burgess.
A tip of the hat goes out to all the division champions and assortment of other award recipients. Noteworthy amongst a bevy of special plaques and trophies was the presentation for Racer of the Year, which was handed out to Brad Burton, the 2012 NHRA Stock eliminator World Champion (who also won the season opening Ignitor at Firebird).