We are very excited to unveil the official logo for the 2017 Drag Racing Season at Firebird. In celebration of our 50th year of operation, we are thrilled to reach this new milestone in Idaho racing history.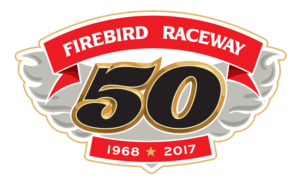 Started from simple beginnings in 1968, Firebird has hosted a wide variety of events over five decades. All together, Firebird has attracted literally hundreds of thousands of fans and tens of thousands of racers during this span of time.
Staples on the Firebird drag racing schedule include both the Ignitor and Nightfire races. The NAPA Ignitor Nitro Opener is Firebird oldest event dating back to 1971. Recognized as the "signature event" of Firebird, the Pepsi Nightfire originated in 1972. Other major events include the Spring Warm Up & Swap Meet, Oldies But Goodies Drags, Fox Hunt and Halloween Classic. We've been fortunate to maintain and build many of these races into nationally-recognized events.
Thanks to both Jeff and Brady Devey for designing our golden anniversary logo. Award winning artists in their own right, the father and son duo have amazing talents. Inspired and created from Idaho roots, this logo will help represent our year of celebration.
We plan to take many aspects of this historic and notable season to new levels. We hope you plan to join us for the ride.