By Cole Coonce
It's an August night at the dragstrip in the foothills northwest of Eagle, Idaho. As the sun sets, a pair of patient dragster drivers in seven-layer fire suits wait for the pomp, hullabaloo, and introductions to subside before they can launch their sleek 260-mph race machines in anger.
On the startling line, a towering tow-headed track official in a fresh-pressed green and black striped shirt is pacing the starting line and working a black hand-held wireless microphone, inciting to the thousands of boisterous race fans to cheer for the favorite.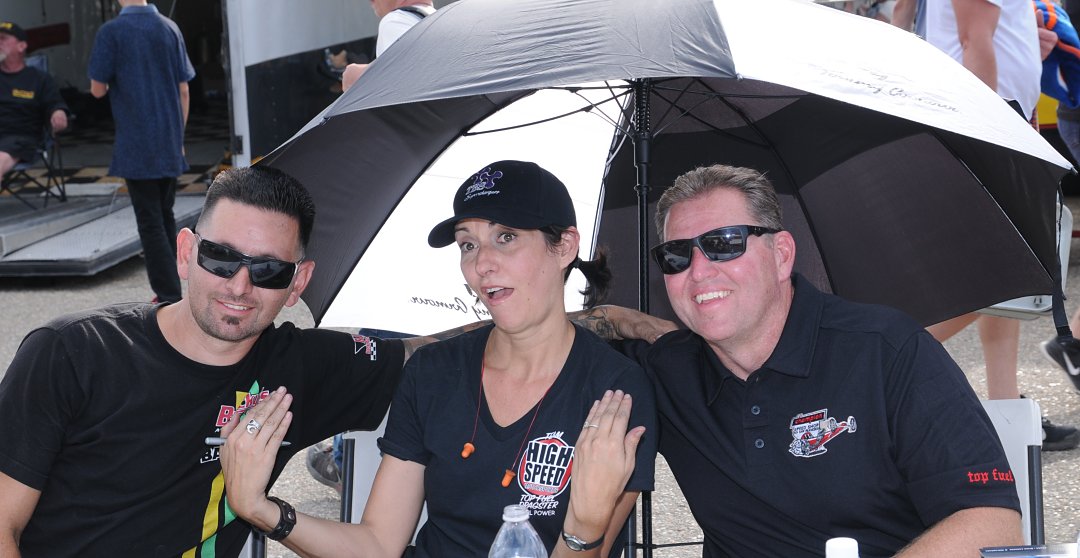 "It doesn't get any bigger than this… #1 in the world today, the recent winner of the Bowling Green Hot Rod Reunion, it is the one `n only Mendy Fry. She is the reigning World Champion, and defending Pepsi Nightfire Nationals winner, ready to rock against the car they call 'WW2.' My friends, this is former World Champ Jim Murphy — #1 meets #1! Are you ready!?!?"
That is the voice of track operator Scott New, who with his two brothers Brad and John, his wife Debbie and extended members of the New family, run Firebird Raceway, an emporium of speed nestled in Idaho's Treasure Valley next door to the state's capitol city of Boise. Despite its remote coordinates, Firebird has an international reputation. As the Indianapolis Motor Speedway and its 500-Mile Sweepstakes is to the Hoosier State, as Le Mans and its 24-hour endurance race is to the French Republic, the New Family's Firebird Raceway and its signature "Pepsi Nightfire Nationals" is to Idaho.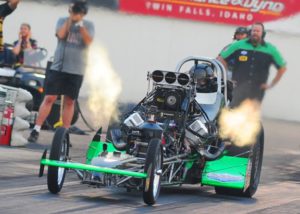 "How many guys here tonight want to see Jim Murphy win this heat? (cheers, claps, whistles). All right, ladies here is your chance: How many want to see Mendy Fry send Jim Murphy packing? (more cheers and bedlam). All right, favorites are chosen…"
As Scott New continues to work his microphone like a baton, the dragster teams light their fire-breathing engines, and it is an overwhelming orchestra of engine noise at this symphony of speed, the engine's crescendo drowning out the state-of-the-art public address system. As the competition begins and New traipses out of the way of the approaching machines, track rubber sticks to his size 12 athletic footwear. But the slick shoes Scott must fill are even bigger than those he wears. Those sneakers belong to the man who brought the brothers New into the race promotion business — their father Bill New (and mom Ellanor), who opened the facility in 1968 and immediately attracted the attention and participation of the biggest names in the sport — names like "Big Daddy" Don Garlits, Shirley Muldowney, Don "the Snake" Prudhomme and Tom "the Mongoose" McEwen and scores of others.
Because of the late Bill News' promotional acumen, humanity, and business savvy, he and his family have created a legacy that is both historic and still vibrant. Together, the News created a tradition.
In point of fact, Boise area racers and race fans know exactly what they are doing one weekend a year every August. They are patronizing and participating in an exhibition of speed with an international reputation that has become part of the local fabric, intertwined with both community and a boon to local commerce.
To that end, not long after Scott New turned off his microphone and Mendy Fry and Jim Murphy roared into the shadows of the sunset, the United States Parks Department recognized Firebird's Raceway on its National Registry of Historic Places. For decades, however, legions of fans and participants have recognized Firebird Raceway as a must-hit stop for the spectacular traveling circus known as professional drag racing.
********************************************************************************************
Special thanks to Cole Coonce for taking the time to pen this original piece on the New family and their famous Nightfire happening every August. He is credited with writing books like Top Fuel Wormhole and a legion of articles that have appeared in a wide assortment of national magazines and publications. Today Cole loves going to drag races to shoot video and capture the essence behind nitro racing. We are grateful to his contributions, which are plentiful and quite insightful.