The Northwest Division Award's Banquet was staged in Seattle, Washington, on Saturday night, January 7.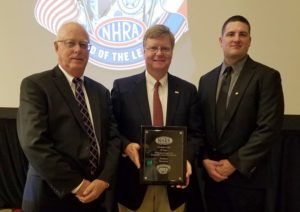 Firebird Raceway was presented a special plaque recognizing 50 years on behalf of NHRA Senior Vice President Graham Light and Division 6 Director Matt Levonas (pictured with Firebird's Scott New). The New Crew was also recognized with the Contributor of the Year award by National Dragster.
Idaho racers were also in the limelight. Junior Dragster track champion Hannah VanderMeer received the Land of the Leaders Challenge Wally trophy and embroidered jacket. Super Pro track champion Sean Shaffer was also recognized during the evening after winning Super Pro at the Summit E.T. Finals at Mission Raceway Park.
Congratulations to all the top finishers in a variety of NHRA classes. Champions were recognized in the NHRA Lucas Oil Drag Race Series, Summit E.T. Finals, National Opens and Land of the Leaders Challenge. In addition a variety of recognition awards were presented to those most deserving in an assortment of areas.