Dan Lafferty earned the overall Classic Grand Championship at the NAPA Auto Parts Halloween Classic XXIV event. Racers braved unseasonably wet and winter-like weather at Firebird's season closing boo bash in western Idaho.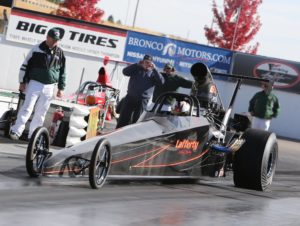 The five-day event offers a $45,000 purse, along with titles in the NHRA Idaho State Championship. The featured four main eliminator champions (Super Pro, Pro, Heavy and Sportsman) also vied for the overall four-way Classic Grand Championship.
To set the field for the four-car runoff, Dan Lafferty (`16 Dragster) ran 4.53 (4.5 dial) 152.45defeated the 4.51 (4.50 dial) 153.72 by Darryn O'Connor (`08 Dragster) in the eighth-mile Super Pro final. In Pro, Gene Reedy (`78 Malibu) ran 6.85 on a 6.89 dial after Andy Schmall (`88 Beretta) redlit by -.001. In Heavy eliminator, Zak Pedraza (`89 S-10) recorded a 7.58 (7.50 dial) 82.23 to best the 7.89 (7.85 dial) 86.43 by Jason Shipp (`67 C-10). Jeff Bell (`69 Mustang) won Sportsman with a 8.77 (8.74 dial)-77.41 over the `68 Camaro of Michael Jaggers who posted a 8.55 (8.52 dial) 79.16.
In the final four showdown for the overall Classic title, Lafferty stopped Reedy, while Pedraza overtook Bell. Lafferty pocketed the $6,000 payday by running 4.53 (4.53 dial) 145.70 to push out Pedraza who finished at 7.45 (7.49 dial) 86.82.
In the Sled/Bike class, Don DePeel (`74 Kawasaki) won for the second straight year running 5.44 (5.44 dial) 123.50. Pedraza was runner-up at 7.38 (7.29 dial) 90.67.
In the Lucas Oil Top Gun Shootout open to the event's quickest 32 qualifiers, the final saw Rob Asbury (`63 Corvette) post a 5.08 (5.05 dial) 140.36 to hold off Blu Hayball (`15 Dragster) who finished at 4.61 (4.56 dial) 142.94.
Other winners over the weekend included: Ken Sweo andValerie Jo Hodson  in Super Roller; Jesse Sanderson and Mike Grady in No-Box/Hi Roller, Terry Hall and Tim Wilkinson in No Box/Gambler; Travis Washburn and Richard Pedraza; Maggie Watts in Last Chance; Greg Buckert in the Quality Trailer Club Runoff; Frank Greenough Jr. and Steve Stuart won for "highest" and "longest" in the Air Firebird" wheelstand show.
Junior champions included Tanner Gaetz in Jr. Lightning;Logan Scrivner in Jr. Thunder; along with Saturday age division champions – DeLaney Bourne, Scrivner, Ty Sasser, Layne Fiscus, Gaetz, Zachary Gaetz, Trenton Franson.
Special awards were presented to: Dave Oien—Best Appearing Full Bodied; Lafferty—Best Appearing Open Bodied; Mark Tarabochia—Top Gun "full bodied" low qualifier; Casey Tehle—Top Gun "open" low qualifier; Kiley Harrington—Best Appearing Junior; Dennis and Karen Law – Bader Family Founder's Award; and Dr. Paul Purcell, W. Lafayette, Ind.—Long Distance (1,800 miles).
Adult Costume award winners: Scariest – Mason McCoy (Twisty the Clown), Couples – Tyler Rush and Amber Wong (Juno movie), Sexiest – Tom Takara (Double D), Most Original – Tyler Warman and Luke Arneson (Forest Gump and Lt. Dan). Honorable Mention – Maddison Stanger (Harley Quinn) and Lost Creek Raceway (Rainier Beer).
Kid's Costume award winners: Samantha, daughter of Simon Ashcroft (Cutest), Alex Modtland , Hailey Howard (Scariest), Kylin Correl, Laci Maier (Most Original), and Madaline James (Funniest).
Best Decorated Pit Area: Linda Panunzio (Harry Potter scene), Kuna Knuckle Draggers (Haunted Christmas), and Shawver family.
Best Decorated Race Cars: Frank Wilson, Randy Standlee and Shane Ryan.
Staff Costume: Tammy Silva (Marshmallow from Ghostbusters movie), Misty Kramer (Smarty Pants), Rick Jones (Rock Star) and Gary Himes (Photo Clown).
Final Lucas Oil Top Gun Qualifying
Open Wheel
1. Casey Tehle, Billings, Mont., 3.99, 180.74
2. Dan Lafferty, Wendell, Ida., 4.12, 171.58
3. Shane Molinari, Battle Ground, Wash., 4.21, 168.05
4. Megan Molinari, Battle Ground, Wash., 4.39, 158.19
5. Tom Clark, Spokane, Wash.,4.41, 156.08
6. Darryn O'Connor, Fort St. John, BC, 4.48, 154.72
7. Blu Hayball, Fort Hall, 4.55, 151.27
8. Jim Tattersall, Eden, 4.56, 151.53
9. Brad Todd, Meridian, 4.56, 149.91
10. Tim Wallace Jr., Meridian, Ida., 4.57, 151.07
11. Mark Barnhart, Emmett, Ida., 4.58, 150.06
12. Cody Hiatt, Boise, Ida., 4.61, 150.20
13. Duston Wurtz, Caldwell, 4.61, 149.36
14. Jaycee Nunes, Deweyville, Ut., 4.62, 152.50
15. Sean Shaffer, Boise, Ida., 4.73, 147.91
16. Katie Harkema, Coeur D' Lene, 4.67, 146.93
Alternates: Dairld Wurtz, Greg Morton, Sean Page, Todd Coltrin, Tom Bailey, Jerry Fisher, Chris Jaggers, Ken Nelson, Curt Legerski
Full Bodied
1. Mark Tarabochia, North Plains, Ore., 4.65, 155.96
2. Derek Dickey, Hyrum, Ut., 4.87, 150.80
3. David Clark, Idaho Falls, Ida., 4.88, 145.52
4. Steve Lambert, Boise, Ida., 4.92, 1412.46
5. John Voss, Sugar City, 5.03, 143.52
6. Rob Asbury, Yakima, Wash., 5.05, 141.33
7. Adam Anderson, Idaho Falls, Ida., 5.09, 137.76
8. Rayce Kidd, Twin Falls, Ida., 5.09, 136.08
9. Troy Hawker, Wellsville, Utah, 5.11, 135.71
10. Dave Kvasnicka, Pocatello, 5.13, 132.78
11. Brent Hodson, Selah, Wash., 5.22, 137.36
12. Paul Eddins, Rexburg, Ida., 5.23, 134.11
13. Butch Warner, Nampa, Ida., 5.26, 134.39
14. Tom Franks, Boise, Ida., 5.44, 125.20
15. Josh Cutts, Rigby, 5.48, 125.12
16. Buzz Nielsen, 5.51, 124.90
Alternates: Tracy Hawker, Rich Potvin