Since the day Firebird first opened, we've always enjoyed the talents of quite an array of top flight announcers. Some have been quite funny and entertaining, others literally statisticians and historians. To be perfectly honest, the world of drag racing wouldn't be what it is today without someone calling the action from Race Control.
And certainly commentators have always been a key component to any given event at Firebird.
LET'S FLASHBACK TO SOME OF THE PIONEERS OF EARLY ANNOUNCING AT FIREBIRD: in 1968, the track's first announcers were a gifted local radio station tandem by the name of Bob Kellogg and Jerry Moore. They were not only fun to listen to, but also critiqued each other back `n forth from the moment the race started until conclusion. For those of you who have lived in western Idaho for half a century or so (and might remember some of the old radio stations), these two disk jockeys worked for KGEM, an AM powerhouse from way back in the day.
In those early years, Richard Schroeder, a rather large guy who was often recognized as "Wall-to-Wall", often did double duty. He not only raced a number of impressive wheelstanders, but also spent plenty of time entertaining the fans over several decades from the timing tower. Schroeder was very gifted in a number of ways. One of "his" favorite Firebird moments was the day he inspired not one, but two people to streak down the quarter-mile. No kidding, one guy and then later one gal both went full monty running as fast as they possibly could right down the strip. Obviously, this was the mid-70's, a time that often brought a surprise or two to many event nights.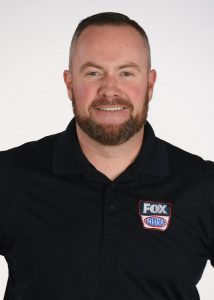 One of the all-time great announcers, Dave McClellend brought his talents to Idaho during one of our early NHRA World Championship Series events. It was pretty incredible having a person who eventually became the "Voice of the NHRA", along with an inductee into our sport's Hall of Fame.
Bernie Partridge was another "man behind the microphone" who came to Firebird in the 70's. He not only was one of the original division directors (from the Magnificent Seven), but also quite a good broadcaster, too.
Making multiple trips to Firebird in the 90's, several times working for Diamond P Sports, Bob Frey was positively hilarious to listen to. And it didn't matter if he was calling the action in Street eliminator at Firebird or Top Fuel at the U.S. Nationals, he was just as good as it gets.
And there have certainly been dozens upon dozens of others that helped to entertain the fans, the racers and everyone who attends events at our facility in the Treasure Valley foothills. From Division 6 Hall of Fame announcer Steve Wong to the early talents of Tad Pollack from Fremont Dragstrip, we've had quite a variety of commentators share their talents from Firebird's Race Control.
We are especially grateful to all those who have taken up residency behind the microphone at events of all shapes and sizes.
NOW LET'S FAST FORWARD TO 2022: this year's Nightfire will see the return of Brian Lohnes to Firebird's "signature racing" weekend. The lead play-by-play anchor for the NHRA national event tour on Fox Sports will be making his second trip to the great state of Idaho (after first attending the 50th in 2021).
"All of us in the New family are once again thrilled to have Brian coming in to announce at this year's Nightfire," mentioned Firebird's Director of Marketing Brad New. "His vast knowledge of the sport and keen sense of energy behind the microphone will be fun for everyone to experience over the August 5th-7th weekend."
We hope you will help join with us in welcoming Brian back to the Nightfire Nationals presented by Bi-Mart this August.
Part of story shared from its original release on 7/27/2021.