The excitement is beginning to gain momentum for the richest race of the season at Firebird. Set for August 11-13, the Pepsi Nightfire Nationals features quite a variety of sportsman classes open to all racers.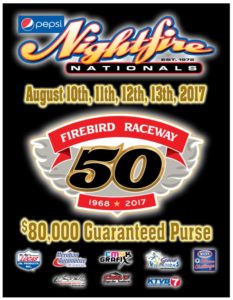 Bracketeer (11.99 or quicker), Pro (13.99 or quicker), Sled/Bike (7.50 to 14.99) and Heavy (11.50-14.99). In addition, the Lucas Oil Top Fire Shootout presented by CMYK Grafix offers a great opportunity for both the "open wheel" and "full-bodied" fraternity.
It is four days and nights of virtual non-stop racing. The daily Bracketeer champ pockets a winner's take of: $5K Thursday, $5K Friday, $7500 Saturday and another $5K on Sunday. Pro is impressive, too. Payouts include: $2K Thursday, $2K Friday, $3K Saturday and $2K Sunday.
New for 2017, the Top Fire eliminator will not only showcase the Quickest 16 Dragsters and Roadsters, but also the Quickest 16 Door Cars and Trucks. The overall runoff winner will be awarded $2,000 to win.
Additionally, the four-day series in each of the four main eliminators will compete in the Meridian Automotive & Machine Bracketeer point's chase. Bonus cash will be awarded to the top finishers and each individual series champ will take home a NHRA Wally trophy in the NHRA All Access Challenge (formerly National Dragster Challenge).
We would be happy to mail you an entry form (just drop us an email at [email protected]). Or you can capture a detailed brochure by clicking below (.pdf )of the official entry application.
PRE-ENTRY APPLICATION