The Awards Banquet concluded a very historic 50th year of drag racing at Firebird Raceway. Staged at the Ballroom of The Riverside Hotel in Boise, hundreds of of people attended the season closing event on Sat., Nov. 4, 2017.
The 2017 Track Champions in the Boise Muffler Gold Cup Series included: Sean Shaffer (Super Pro and Pro), David Meimann (Sportsman), Jacob Wood (Sled/Bike), Hannah VanderMeer (Junior Dragster), Jerome Taylor (High School), Joe Witherspoon (Alumni), Ryan Resinkin (Outlaw Street), Jim Coryat Jr. (Street Truck), Glen Phillips (Super Shifter), Mike Ritz (Factory Muscle), Patrick Bailey (Nostalgia), and Don Trafford (Street Bike).
Additional championship titles were handed out to: Middleton High (High School team), Down `n Dirty (Silver Cup – Club), The Barons (Bronze Cup – Club), and Venom Racing (Copper Cup – Club).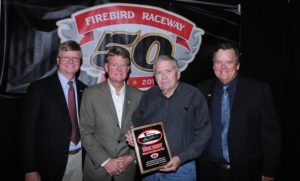 The New family recognized veteran racer Rick Kent for the 32nd Annual Racemaster award. As the final presentation of the evening, Kent received the very special Hall of Fame type of award. The American Falls resident attended the first event at Firebird in July of 1968. He also went onto win two titles that September with his 1968 Hemi Dodge Dart in the SS/B class.
Other special award winners included: Shaffer (Racer of the Year), VanderMeer (Top Lady Driver of the Year), Shannon Campbell (Most Improved), Brad Pattan (Outstanding Perseverance), Jacob Phelps (Rookie), Richard Williams (Best Appearing Race Car), and Carl Youngstrom (Outstanding Crew). Perfect Light .000 Prize Baskets: Jacob Hof, Meimann, and Taylor.
Special thanks to Gary Himes and Alex Charlton for capturing the Banquet photos.