The Awards Banquet helped close out Firebird's 2019 Drag Racing Season. The event was staged in the beautiful Ballroom of The Riverside Hotel in Boise.
The 2019 Track Champions in the Boise Muffler Gold Cup Series included: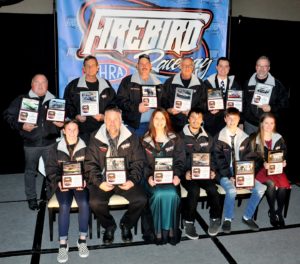 Duston Wurtz (Super Pro)
Joe Witherspoon (Pro and Sportsman)
Zak Pedraza (Sled/Bike)
Summer Field (Junior Dragster)
Larry Saunders (Pro Comp)
Lyndsay Lloyd (High School)
Carl Youngstrom (Alumni)
Ryan Resinkin (Nostalgia and Street Truck)
Stephanie Meimann (Outlaw Street)
Glen Phillips (Super Shifter)
Michael Clement (Factory Muscle)
Scott Grondahl (Street Bike)
Davis Deming (Jr. Street)
Additional championship titles were handed out to: Kuna High (High School team), Kuna Knuckle Draggers (Silver Cup – Club), The Barons (Bronze Cup – Club), and 3800 Club (Copper Cup – Club).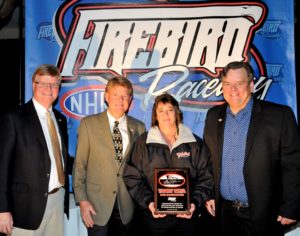 The 34th Racemaster award was presented to long-time Firebird team member Tammy Silva. She has worked in Firebird's ticketing operation for the better part of the past 37 years, a very deserving honoree.
Other special award winners included: Witherspoon (Racer of the Year), Shannon Campbell (Top Lady Driver of the Year), Tracy Hawker (Most Improved), Tia Jo Spurrier (Outstanding Perseverance), Ty Scott (Rookie), Lynn Johnston (Best Appearing Race Car), the Deming Families (Outstanding Crew), Debbie Nichols and Tom Farmer (Firebird Co-Staff Members of the Year) Bobby & Leann Day (Good-guy/gal) and Brad Bohning (Perfect Light .000 Treasure Chest prize basket-drawing).
Special thanks to photographer Gary Himes for the images.