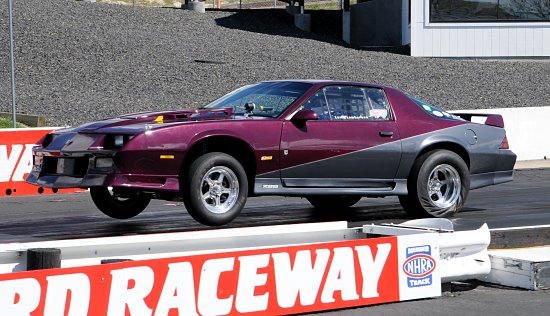 19TH ANNUAL OIL CAN HENRY'S SPRING WARM UP & SWAP MEET ENDURES WINDY DAY
The 19th Annual Swing Warm Up & Swap Meet presented by American Classifieds started off on Friday with temperatures in the 60's under cloud free skies. But by Saturday a strong weather system blew into the Treasure Valley, which included morning showers and persistent wind gusting to nearly 30 mph throughout the day. Fortunately enough the day prior weather forecast of 70% chance of rain didn't develop into the storm that many predicted (just light showers in the early am) as temperature climbed to just over 50 degrees for the day's high.
The event attracted both a good showing of racer who tested throughout the afternoon, along with a nice cross section of vendors in both the upper and lower pit areas. For all of you who attended this year, we say thanks for your support and attendance on behalf of every member of the New Crew and the Firebird track staff.
The full day of testing was limited to eighth-mile practice runs due to the windy conditions, which climbed above 40 mph a couple of times during the afternoon. The good news was most racers benefited from 5-6 runs, many of which were getting ready for the fast approaching Club Challenge Series on Friday night, April 19th, and the High School & Alumni Championships set for Sunday, April 21st.
It's pretty difficult to mention everyone that made laps, but here's a few of those who braved windy conditions that were observed throughout the full day of testing. Noteworthy from the sea of practice passes included solid Super Pro passes by Cody Hiatt, Ed Cutler, Chris Jaggers, Steve Reynolds, Troy Pecht, Darrell Carr, Larry Saunders, and many others. From the Pro ranks, it was good seeing Paul Nicolosi, Jerry Hodges, Jeffrey Langan, Steve Holland, Tim & Kristi Shawver, Randy Williamson, Larry Lamberson, Carl Youngstrom, and a number of other notables making laps. The bikes and sleds were out in force, too, along with all kinds of sport compact, street machine and Sportsman type entries.
A handful of racers were out making license runs, too. Lots of participants made their season debut at the Spring Warm Up, which included the supercharged Nova of Steve Roberts who made a ton of modifications to his ride during the off season. Steve Pyburn was also back with his zoomy Studebaker making a number of passes, all of which were postcard perfect (aka – straight down the track).
Finally, we want to pass along our thanks to everyone on the Firebird track crew. From the front gates to the food & souvenir service staff and everyone involved with race operations, we're grateful for your enthusiasm and hard work. It was two very busy days of activities and all `n all (except for all the wind and cool conditions on Saturday)– it was unquestionably another first-rate event.
Look forward to seeing everyone at this coming weekend at the opening Club Series stop on the first race in the High School Championships!