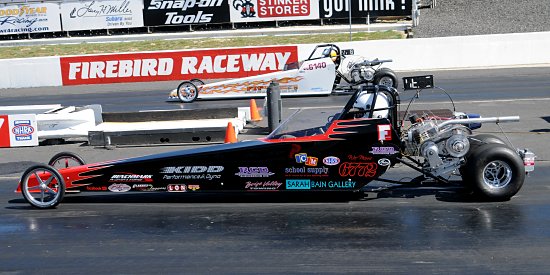 WET WEATHER DOESN'T SLOW UP SOLID FIELD OF RACERS AT SECOND TEST DAY OF SEASON
Unpredictable weather can throw a monkey wrench into anyone's best-laid plans. Sunday, April 7th, was just that. As most know, the New Crew and their staff very rarely toss the towel in early, in fact, they typically go well beyond the call of duty in trying to make a race happen no matter how much work it might take. During the second day of testing this season, mother nature tried to impede the plans of many. Altogether, nearly three tenths of rain fell overnight and throughout the early morning and a portion of the early afternoon. But a lot of hard work and effort saw testing take place and the opening stop in the Junior Dragster point's series.
The day started off wet, very wet. After three hours of track drying under 50-degree temps, everything was ready go. Unfortunately, mother nature had other plans. The skies opened up just moments before the first pair was ready to go down the track, bringing everything to a halt.
For those who are procrastinators or pessimists, this day wouldn't have been for you. More than one person who came through the gates pretty much guaranteed that not a single car would go down the track (especially on a day that had 80% forecast of moisture and temps in the mid-50's). In all honesty, though, we don't go into any event negatively, we always look at the bright side, although the forecast for this one appeared quite bleak.
After two more hours of rainfall, the track drying commenced again. With the help of plenty of wind and a little sunshine (every once in a while), the track was finally dry for the second time. All those who stuck it out finally got their chance to test their equipment by mid-afternoon.
We just want to say thank you to all of the Firebird staff and crew for working overtime to make this event even happen. Altogether, they dried the track off `n on for the better part of six hours. It was nothing shy of a Herculean effort. We also want to convey our appreciation to all those racers, crew and their families who stayed for the full meal deal.
Congratulations to Wes Morris who defeated Paige Harris in the first point's race for Junior Dragsters this season. The semi-finalists included Hannah VanderMeer and Paul Sheridan.
There were several new rides that also appeared at the one-day event. Most notable was the wild new Studebaker of Steve Pyburn. Under construction for quite a period of time, the zoomy new piece ran straight and very swiftly on each of his passes, under the watchful eyes of Ivan Jaques and Rick Sayers.
Next up: American Classifieds Spring Warm Up & Swap Meet. We look forward to seeing you there!