The 55th edition of the Firebird Award's Banquet helped close out the 2023 Drag Racing Season. The Banquet took place in front of a full house at The Riverside Hotel ballroom in Boise.
Track Champions in the Boise Muffler Gold Cup Series presented by NAPA Auto Parts included:
Pierson Deming (Kidd Performance Super Pro)
Stan Deming (Big O Tires Pro)
Chris Townsend (United Oil Sportsman)
Danny Jones (Shannon Campbell Realty Sled/Bike)
Journey Morell (Junior Dragster)
Dustin Lee (The Comfort Source Pro Comp)
Summer Field (Idaho Army National Guard High School)
Alexis Heideman (Shannon Campbell Realty Idaho Jr. Street)
Kota Nation (Economy Transmission Alumni)
Larry Lamberson (Capitol City Transmission Nostalgia)
John Bryant (Moffitt & Bratton Outlaw Street)
Rich Pedraza (Modern Driveline/Rich's Auto Care Super Shifter)
John Bryant (Waynes Transmissions Street Truck)
Carl Youngstrom (Garry's Automotive Factory Muscle)
Dylan Miller (Carl's Cycle Sales Street Bike)
Kuna High School (High School team champions)
The 37th Racemaster award was presented to veteran Firebird racer Shayne Schaefer. The long-time Ford enthusiast started racing in High School nearly 45 years ago, a very deserving honoree. Shayne still competes in a variety of classes with the same Ford Mustang that he originally raced for the Meridian High drag team.
Fairly Reliable Bob's Club Series champions included the: Melba Outlaws (Silver Cup), Black Sheep Racing (Bronze Cup), and Hot Shots (Copper Cup).
Other special award winners included: Pierson Deming (Racer of the Year), Shannon Campbell (Top Lady Driver of the Year), William Flowers (Most Improved), Michelle Dill (Outstanding Perseverance), Paxton Squire (Rookie), John Shaffer (Best Appearing Race Car), Bobby and Leann Day (Outstanding Crew), Gary Himes (Firebird Team Member of the Year), Jacob and Katy Phelps (GOOD-Guys award) and John Bryant (.000 Perfect Light Treasure Chest basket).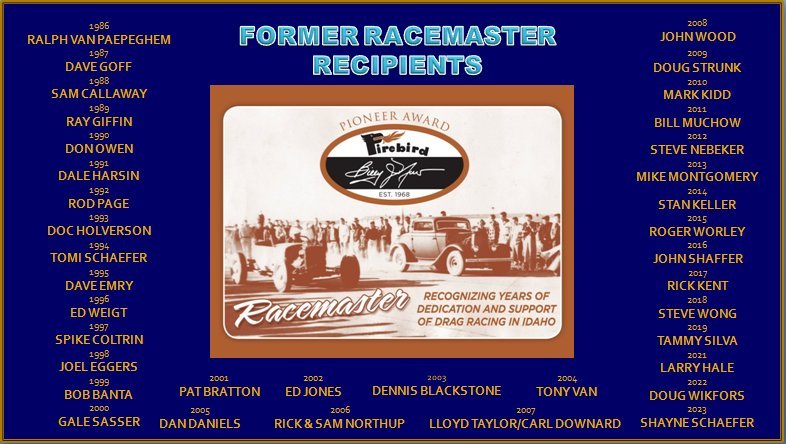 Special thanks to Connor New for capturing all of these images.