Following on the heels of a tremendous year of racing at Firebird Raceway is the release of the 2017 Drag Racing Schedule.
Excitement is already building in celebration of our 50th year of racing in western Idaho.
As a prelude to the drag racing season, the year kicks off at Expo Idaho with the O'Reilly Auto Parts Boise Roadster Show presented by Les Schwab Tires. The ISCA Summit Show Car Series event will jumpstart the motorport's calendar on March 10-12.
Notable on this year's milestone calendar of events will be Firebird's three hallmark weekends of racing. The 47th Annual NAPA Ignitor will return on May 4-7. The track's oldest event will play host to the opening Lucas Oil Drag Race Series meet in the Northwest Division, along with the second stop in the NHRA Heritage Series for the AA/Funny Car class.
In August, Firebird's "signature event", the Pepsi Nightfire Nationals will showcase Top Fuel and AA/Funny Car in the Heritage Series, along with the excitement of AA/Fuel Altereds, Jets and a Wheelstander under the lights nightly. We're also very excited to be the home of the oldest major bracket tournament in North America called the Bracketeers with Firebird's richest sportsman purse of the season on the line. The Nightfire returns August 10-13.
The Fall time of year will once again be home to the highly popular NAPA Halloween Classic XXIV event on October 11-15. Hands down, it's the Halloween party of the year for hundreds of racers and families attending from all over the west.
Start making your plans today. We'll have a full color brochure printed in the very near future, so you can have a hard-copy in hand, too.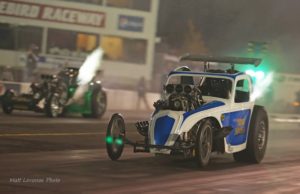 2017 Firebird Raceway Track Schedule
MARCH
10-12               O'Reilly Auto Parts Boise Roadster Show presented by Les Schwab Tires-Expo Idaho
APRIL
2                      Early-Season Open Test Day presented by Larry H. Miller Subaru
9                      Early-Season Open Test Day presented by Larry H. Miller Subaru
14-15               Spring Warm Up & Swap Meet by American Classifieds, Test Day
22-23               Stinker Stores Season Opener – Gold Cup & Street Legal Double Header
28                   Fairly Reliable Bob's Club Challenge Series #1
30                   United Dairymen Spring High School and Alumni Championships
MAY
4-7                   47th Annual NAPA Auto Parts Ignitor Nitro Opener by Peterson Chevrolet
13                    Open Test Day & Unlimited Grudge Racing presented by Larry H. Miller Subaru
13                    Peterson Chevrolet Late Night Drags, 7 pm – 11 pm
20                    Battle of the Brands by Interstate Batteries, Chevy vs. Ford, Gold Cup races
21                    Hot Truck Nationals by Bronco Motors, Gold Cup races
26                    Fairly Reliable Bob's Club Challenge Series #2
27                    Peterson Chevrolet Midnight Drags, 8 pm – Midnight
JUNE
3-4                   Oldies But Goodies Drags and Show, Gold Cup races
9                      Fairly Reliable Bob's Club Challenge Series #3
10                    Peterson Chevrolet Midnight Drags, 8 pm – Midnight
16-17               Little Caesars Fox Hunt presented by Bronco Motors, Gold Cup races
23                    United Dairymen Friday High School & Alumni Series #2
JULY
1                      Street Machine Shootout by Qualafab, Gold Cup Double Header
2                      Northwest Mopar by Peterson's Stampede & NHRA King of the Track
7                      Fairly Reliable Bob's Club Challenge Series #4
8                      Import Summer Jam by Lyle Pearson Acura
14                    Birds of Prey Motorsports – High Desert Harley-Davidson Bike Night
15                    Peterson Chevrolet Midnight Drags, 8 pm – Midnight
29                    Pre-Nightfire Gold Cup, Street Legal & High School-Alumni classes
AUGUST
4                      Fairly Reliable Bob's Club Challenge Series #5
10-13               46th Annual Pepsi Nightfire Nationals
26                    Peterson Chevrolet Midnight Drags, 8 pm – Midnight
SEPTEMBER
8                      Fairly Reliable Bob's Club Challenge Series Finals
10                    United Dairymen Fall High School and Alumni Series
15-16               Fall Swap Meet by American Classifieds, Racing and Test Day
23                    Boise Muffler Gold Cup Showdown
24                    Les Schwab Best of Detroit by Kidd Performance, NHRA Member Track Madness
30                    Peterson Chevrolet Late Night Drags, 7 pm – 11 pm
OCTOBER
7                      Open Test Day presented by Larry H. Miller Subaru
11-15               NAPA Auto Parts Halloween Classic XXIV, Drag Racing Spooktacular
28                    Last Blast Open Test & Grudge Day by Larry H. Miller Subaru
Firebird Raceway is located 5 miles north of Hwy 44 on Hwy 16 just ten minutes northwest of Eagle. For more information, feel free to contact the track offices at 208 938-8986 or via email at: [email protected]