The momentum is quickly building for one of the biggest participant events in the Pacific Northwest as the Summit E.T. Finals returns to Firebird this coming Labor Day weekend. Set for August 30-31, Sept. 1-2, hundreds of racers are anticipated from 18 NHRA northwest member tracks.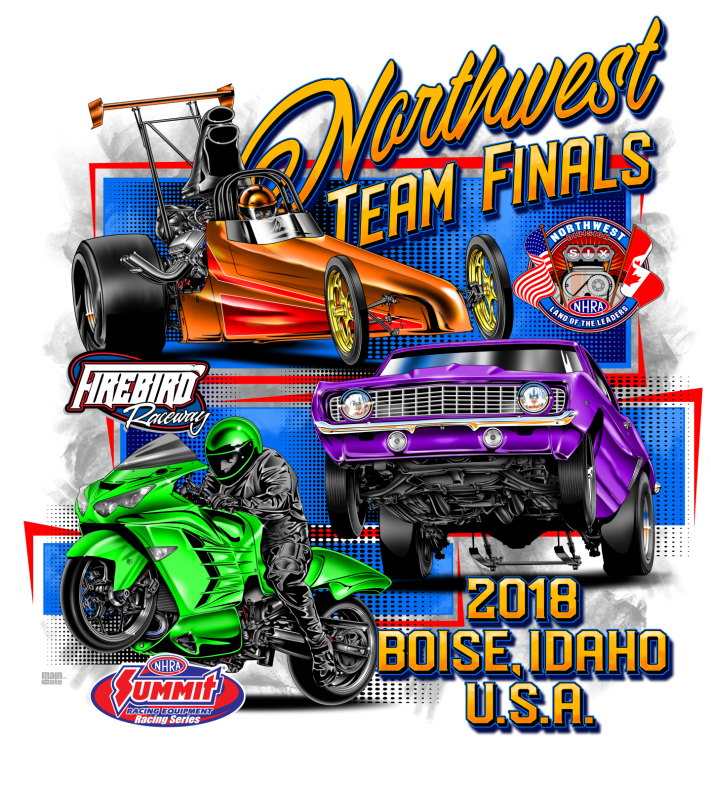 The E.T. Finals offers a multitude of racing opportunities for qualified racers. Each team can field up to 62 participants. Racing will include Gamblers, Race of Champions and the Main Team Event on Sunday. The reigning Team Champions are Pacific Raceways out of Kent, Wash.
Racers will be participating on member track teams from: M.H.D.R.A. DRAGSTRIP, Medicine Hat, Alberta, MISSION RACEWAY, Mission, British Columbia, FIREBIRD RACEWAY, Boise, Idaho, LEWISTOWN RACEWAY,  Lewistown, Montana, LOST CREEK RACEWAY, Anaconda, Montana, MEDFORD DRAGSTRIP, Medford, Oregon, COOS BAY INT'L SPEEDWAY, Coos Bay, Oregon, MADRAS DRAGSTRIP, Madras, Oregon, PORTLAND INT'L RACEWAY, Portland, Oregon, WOODBURN DRAGSTRIP, Woodburn, Oregon , BREMERTON RACEWAY, Bremerton, Washington, PACIFIC RACEWAYS, Kent, Washington, (the defending Northwest Division Track Champions), RENEGADE RACEWAYS, Yakima, Washington, WALLA WALLA DRAG STRIPS, Walla Walla, Wash., CASTROL RACEWAY, Edmonton, Alberta, YELLOWSTONE DRAGSTRIP, Billings, Montana, and SPOKANE COUNTY RACEWAY, Spokane, Wash.
EVENT SCHEDULE
Wednesday, August 29
Parking & Tech (priority to ETI) Noon – 9 p.m.
Tech (priority to ETI) – 1 p.m. – 6 p.m.
*entrance will open when trailers reach the highway
Thursday, August 30
Gates open & Parking 8 a.m. – 9 p.m.
Tech 9 a.m. –  7 p.m.
Test & Tune Noon –  7 p.m.
Team Captain Meeting 6 p.m.
Friday, August 31
Gates open 7 a.m.
Tech open 8 a.m.
Gambler Race & Time Trials 9 a.m.
Saturday, September 1
Gates open 7 a.m.
Tech open 8 a.m.
Time Trials 8:30 a.m.
Race of Champions/Time Trials throughout the day
Sunday, September 2
Gates open 7 a.m.
Eliminations: 8:30 a.m.
Racers may leave trailers overnight on Sunday (and stay on-site).
TEAM FINALS RACER INFO