Saturday night, July 2, the 35th Annual Qualafab Street Machine Shootout presented by Wayne's Transmissions returns to Firebird. The Boise Muffler/NAPA Auto Parts Gold Cup chase kicks back into high gear.
Racer gates will open by 9 am on Saturday (or racers who register online can pre-park/tech on Fri. evening from 4 pm – 7 pm). The spectator entrance will open at noon Saturday , followed by time trials from 1 pm – 4:55 pm. First round of racing will get underway at 5 pm.
The Street Machine event is the first night of a two-day double header weekend. Sunday, July 3, marks the annual Northwest Mopar/Gold Cup stop.
Racing will be offered in a variety of Gold Cup categories. Additionally, a variety of no-holds barred, heads up classes will be contested. And without question, this is the heads up race of the season!
Session order:
Sportsman eliminator
13.00 Index – Street Machine "Q"
12.50 Index – Street Machine "Q"
12.00 Index – Street Machine "Q"
11.50 Index – Street Machine "Q"
10.50 Index – Street Machine "Q"
Pro eliminator
Super Pro eliminator
Sled/Bike "Q"
Unlimited Street "Q"
Junior Dragster "Q"
Trophy/Testing/Licensing
All Street Machine qualifiers will receive free Shootout t-shirts (in the staging lanes before eliminations). Six (6) Street Machine champions will win the pewter Speed for All Wally trophy, along with an embroidered hat.
Better yet, it's two back-to-back opportunities to compete. Street Machine/Gold Cup Saturday followed by the Northwest Mopar/Gold Cup on Sunday.
NOTE TO ALL STREET MACHINE RACERS: Sunday will offer an OPEN COMP (pro-light class) for any and all Street Machine competitors…two opportunities in two day equates to TWICE THE FUN, right?!
CLASSES
Super Pro (eighth)
Pro (7.50-13.99, qtr.)
Sportsman (12.00 and slower, qtr.)
Sled/Bike (13.99 or quicker, qtr.)
Junior Dragster (5 – 17 year olds, eighth)
Unlimited Street Quick 8 (run what cha' brung (open to any door car/truck, eighth)
10.50 Street Quick 8 (qtr.)
11.50 Street Quick 8 (qtr.)
12.00 Street Quick 8 (qtr.)
12.50 Street Quick 8 (qtr.)
13.00 Street Quick 8 (qtr.)
Trophy class
Super Pro Full Event (Sat/Sun): $170 (day of event $190)
Pro Full Event (Sat/Sun): $130 (day of event: $150)
Sled/Bike Full Event (Sat/Sun): $95 (day of event: $115)
Junior Dragster Full Event (Sat/Sun): $70 (day of event $80)
Street Machine (choice of Unlimited, 10.50, 11.50, 12.00, 12.50, 13.00 or Trophy): $40 (day of event $50)
Annual permanent number/license card: $10
ENTRANCE FEES
Adult Full Event credential (Sat/Sun): $30 (day of event $35)
Ages 6-12 Full Event credential (Sat/Sun): $10
Saturday only Adult credential (not a crew pass): $15
Saturday only Ages 6-12 credential: $5
Ages 5 & Under: Free
RACE SCHEDULE
Early Racer Gates Open: 9 am*
Time Trials start at: 12:30 pm
Racing: 6:00 pm
Concludes: 10:30 pm
---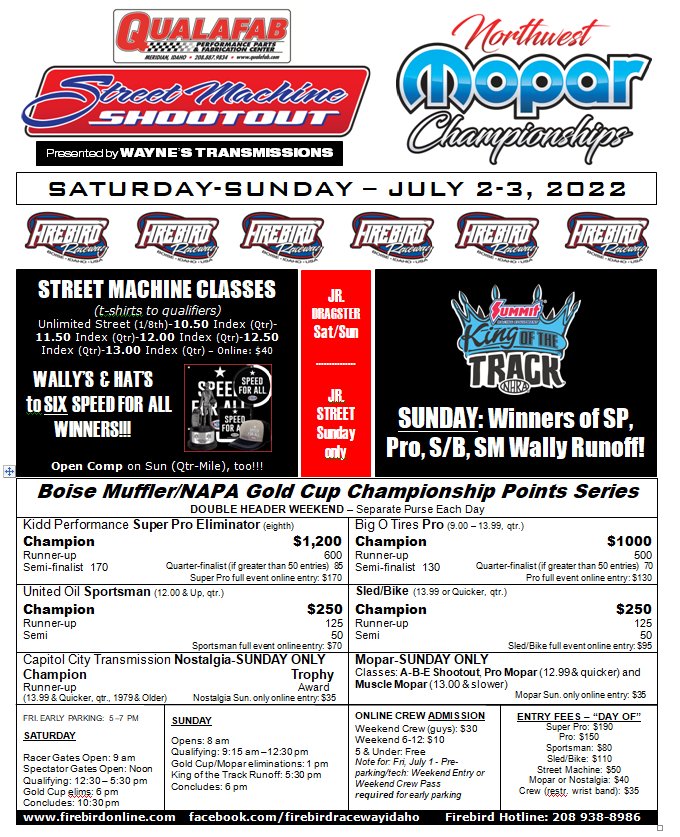 Defending Street Machine Shootout champions include:
Unlimited Street-Quick 8
Adam Anderson
10.50 Quick 8 Index
Shannon Boepple
11.50 Quick 8 Index
Justin Cirelli
12.00 Quick 8 Index
Gary Bullington
12.50 Quick 8 Index
Katy Phelps
13.00 Quick 8 Index
David Meimann
Super Pro
Seth McLean
Pro
Leann Day
Sled/Bike
Stephen Harrison
Sportsman
David Meimann
Jr. Dragster
Colten Bullington
Trophy
Keith Severy