Saturday night, June 29, the 32nd Annual Qualafab Street Machine Shootout returns to Firebird. The Boise Muffler Gold Cup chase kicks back into gear, along with a number of heads up classes.
Gold Cup eliminators include Super Pro, Pro, Sled/Bike, Sportsman and Junior Dragster. Additionally, head up madness will be offered in several classes noted below. All Street Machine qualifiers will receive free Shootout t-shirts (in the staging lanes before eliminations).
Firebird Seasonal Award plaques will be presented to each of the event champions. And each individual Street Machine champion will be awarded a Firebird embroidered windbreaker.
Better yet, it's two back-to-back opportunities to compete. Street Machine/Gold Cup Saturday followed by the Northwest Mopar/Gold Cup on Sunday.
TO ALL STREET MACHINE RACERS: Sunday will offer an OPEN COMP (pro-light class) for any and all Street Machine competitors…two opportunities in two day equates to TWICE THE FUN, right?!
CLASSES
Super Pro (11.99 or quicker)
Pro (7.50-13.99)
Sportsman (12.00 and slower)
Sled/Bike (14.99 or quicker)
Junior Dragster (5 – 17 year olds)
Unlimited Street (run what cha' brung (open to any door car/truck)
10.50 Street Quick 8
11.50 Street Quick 8
12.00 Street Quick 8
12.50 Street Quick 8
13.00 Street Quick 8
Trophy class (10.00-slower)
Testing or Licensing session
DAILY RACE FEES
Super Pro: $65
Pro: $45
Sled/Bike: $40
Junior Dragster: $30
Junior Street: $15
Street Machine classes: $35
Test only: $65 (SP), $45 (Pro), $40 (S/B), $30 (SM)
Annual permanent number/license card: $7
ENTRANCE FEES
Adults: $12
Ages 6-12: $3
Ages 5 & Under: Free
RACE SCHEDULE
Early Racer Gates Open: 9:30 am*
Spectator Gates Open: Noon
Time Trials start at: 12:30 pm
Racing: 6:00 pm
Concludes: 10:30 pm
*Please Note – Raceway will open for early racer parking starting Saturday morning no later than 9:30 am (or earlier should trailer line up reach Hwy 16)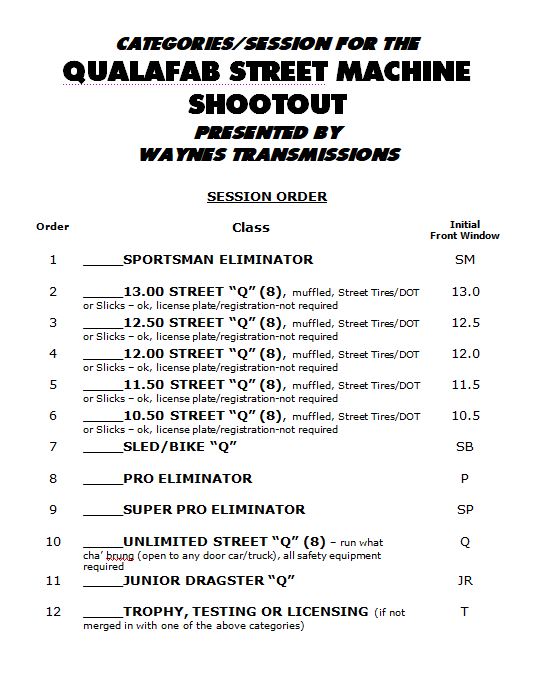 In the event of inclement weather, updates will be available on this site and on our Facebook page.
For more event information, email: [email protected]